Gear Review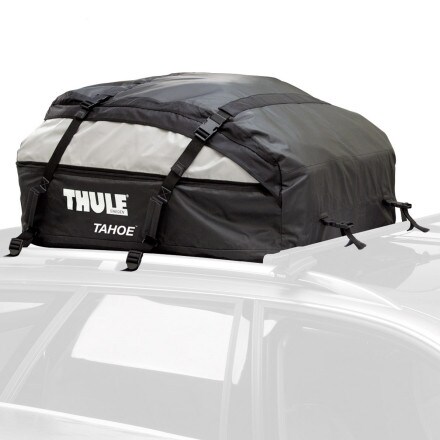 Our first big road trip tested the Tahoe's mettle. We drove 730 miles from Utah to San Francisco. The weather was brutal leaving town: below freezing with head/cross-winds up to 50 MPH and horizontal snowfall. The Tahoe was a great travel companion. It was quiet/secure, kept our luggage dry, and freed up a TON of space inside the vehicle so the family and I weren't packed to the gills. While still compressed to 15 cubic feet, I was able to fit an oversized suitcase, a carry-on size suitcase, a large duffel bag, and a crib mattress with plenty of room to spare (the carrier could have been expanded an additional 2 cubic feet by unzipping the expansion zippers).

I discovered another advantage of the Tahoe carrier the hard way. When I arrived in San Francisco, I tried to squeeze into our parking garage. It was close but too short - the bag snagged and snapped one of the anchor rings. As a result, one of the front tie down straps couldn't be reconnected. I called Thule customer service and was told that there was no way replacement part for those links (kind of like how you can't buy a replacement lid if you shatter your hardshell cargo box). So I went to a climbing store in San Francisco and purchased the smallest Petzl Quick Link I could find. This solution worked perfectly. Had I made the clearance mistake with a hardshell carrier, it would have been a vastly different ending to the story.

Attached is a picture from the return trip (somewhere in the Nevada wasteland). You can see the steel quick link on the driver's side front strap.
View More Details on Thule Tahoe Cargo Carrier