Gear Review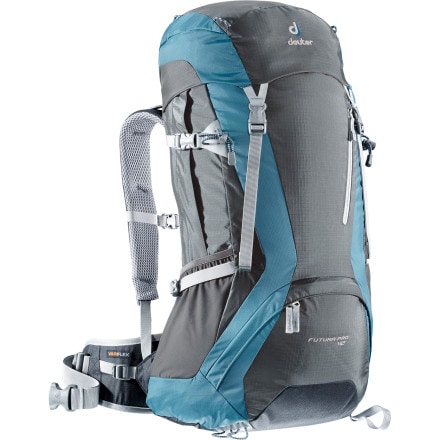 Posted on
Redesign not for the better
I'm writing this review based on ownership of the previous model, but lots of hands on experience with the newer (this) model.

The new Pro 42 carries many of the hallmark features of the previous one that made it such a fantastic, versatile, functional, high-value pack. The concept of the suspended mesh back, the layout of the internal compartments, the pivoting hip strap, built in rain cover, and the external carrying capacity are all top-notch; as good as any equivalently sized pack I've ever used or come across.

The old style flat, straight steel bands have never failed in my pack through a couple years of abuse and HARD use on the trail, as well as some intercontinental travel; they've stayed strong and the pack feels as good as the day I bought it. I will reiterate what I've said in a previous review that the Older Model Pro 42 is among the best outdoor gear I've used or owned; 5+ stars. (If you can pick up one of the old models on sale I highly recommend it).

The reason I'm giving this model a lowered rating is because of the redesigned steel suspension springs; they are now more aptly called wires, and look like bent coat hangers. I believe the idea was to lower the overall weight, or perhaps provide a different feel for the suspension but this change was, in my opinion, a serious downgrade.

Two experiences/observations lead me to this conclusion.

First:
Based on my strong recommendation, a friend of mine purchased this newer model when it was on sale a few months back. In the time he used it as part of a trail crew he managed to snap one of the stays and substantially damage the other. Although I was not there to witness this event, he assures me the pack was being used within normal limitations (i.e. it wasn't completely overloaded or thrown off a cliff, or whatever).

Under other circumstances I would dismiss this as bad luck, and my opinion of this pack and Deuter's products (which I hold in high esteem) would be unchanged. More than likely I would pass it off on a defective bag and/or the resounding idiocy of my friend - just kidding :P

However, this brings me to point #2:
I often frequent the Used Gear/Garage Sales of a certain Backcountry.com competitor (which shall remain nameless) looking for good deals, and generally just acting like the dirtbag that I am.

I have noticed at three(3) separate garage sales one or more of these bags (or smaller version, but same suspension) with the exact same damage I described happening above (snapped/bent support wires). Again, I was not there to witness the cause, and we all know how rough we can be on our gear, but to see it so widespread and (relatively) frequently is very troubling.

What does this mean for the pack?

I hate to give it a low rating because feature-wise it is excellent and up to the usual high standards of Deuter products. However, in purchasing this bag you have to judge the above information relative to the way you handle your gear. I wouldn't think you have to handle the thing like it's made of eggshells, just know that the suspension may break or bend under harsh conditions - which, in the backcountry, would spell disaster for your trip. Again, I say this secondhand, so take all of this with a grain of salt.

Can anyone else comment on this? Am I being overly harsh based on a few isolated incidents? I've seen DeuterUSA employees comment on these boards before, so maybe they could contribute something and point out how badly misinformed I am.
View More Details on Deuter Futura Pro 42 Backpack - 2550cu in