Gear Review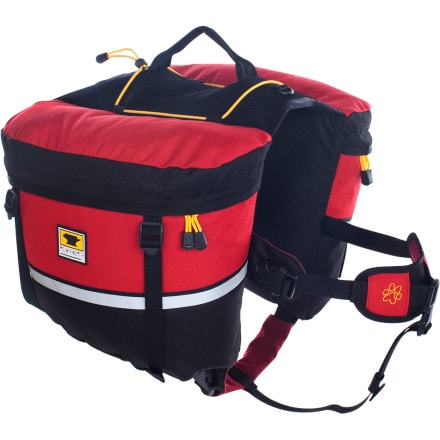 the dog doesnt seem to notice that its there, even over long hauls. he weighs 75lbs and wears the medium with no problems. three adjustable "undercarriage" straps and 2 compression straps on each side make for easy fit as well as making load symmetry an easy task.

it has nylon cord webbing on the top for storage. the dog sleeps on both a small closed cell foam pad and a small eggcrate-type foam pad in the winter that i store on his back. tried to pack a small fleece blanket in his bed roll too, but no go. there are a couple loops on top for attaching the leash, but they are plastic. they havent broken yet, but i dont have too much faith in them. i always keep the collar on anyway, so its pretty much a non issue. there is also a lift handle on the top over the dog's back. it works, but i havent used it to pick up my dog, so i cannot attest to its load strength.

it has reflective straps on the side in case "Fido" runs off he is easier to find.

pretty tough too. my dog has caught it on thorns, trees, stumps and shrubbery of all types with no noticeable wear. no snags or tears that i can see. i think it is pretty reasonably priced considering how tough it is. highly recommended.
View More Details on Mountainsmith Dog Pack