Gear Review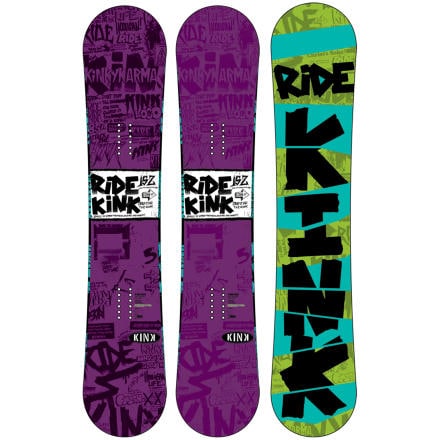 Posted on
Rail & Box Killer
Are late night jib sessions your primary focus? Do you hike one particular jib feature at your resort over and over until you get your trick dialed? Then the kink should be on your short list of boards to take care of your jibbing needs.

The Kink has a few features that are going to progress your jibbing sessions:

85A Slimewalls - First of all, they take a beating... so when you're hitting boxes, rails, tree stumps, etc.. you don't have to worry about cracking a sidewall. The slimewalls also flex more naturally with the rest of your board, so you have better feeling under foot. So setting up to spin on your heel or toe edge is much smoother because you have so much more feeling. Last, the naturally absorb vibration, so you'll find that a lot of the chatter you get while riding is absorbed in your sidewalls and you never feel it under foot.

Cleavedge - The metal edges on the board (along with all ride boards in the mobility lineup) are 50% thicker than a normal metal edge. You benefit from this because when you slide down a rail, your edge heats up.. then you pop off and land on cold snow which can occasionally cause your metal edge to crack. Having thicker edges on your board really helps prevent this and you being without a deck.

1500 Extruded base - This base takes a beating and is very easy to repair when you do get a base shot.

This is really one of the best rail boards on the market. If you're looking for the same feeling with Rocker, check out the Ride Crush as that board is just a lighter kink with Rocker. If you're looking for a more all around park deck that can still handle rails just as well make sure to look at the DH & Machete.

Lastly, if you're boot size is bigger than a 10.5 make sure you check out the wide model of the kink so you don't get toe drag.
View More Details on Ride Kink Snowboard