Gear Review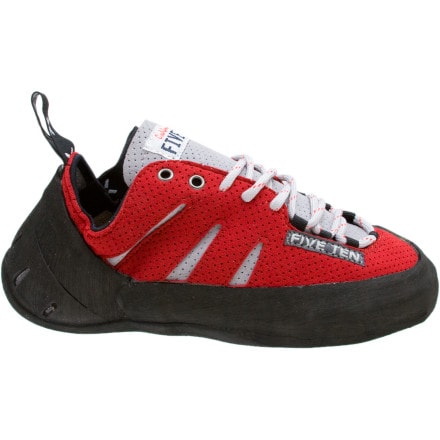 Posted on
Prisms - Pros and Cons
I've owned these shoes for two years, and cranked some long, hot days at the Gunks and pulled quite a bit of plastic on these. I'm on my second resole. My thoughts:

Sizing: Women's 9.5, bought a EUR 41. I wish I owned a half size larger than I bought, as the size tends to get painful for me after your feet swell or after a mere 3-4 pitches. They've become my indoor shoes unless its 40-55F out, and I'm considering buying a larger pair for outdoor use.

Shoe: The Synthetic upper, while great because it doesn't stretch, doesn't really let your feet breathe either, which can be a drag. The fabric is doubled up, which unlike the sirens and gambits prevents them from stretching a lot. If you don't pull the tongue out and let these babies air out, you will get stinky shoes.

Rubber: Onyxx rubber rocks, it edges and smears great. The original rubber cracked down the rand in the front of the toe "point" in about 3 months of climbing, but the first resole lasted a year after that. The rand rubber also seems to take a lot of abuse, every resole i've had required a rand too. Unfortunately I haven't done an ounce of crack climbing in them to help you there.

Shoe Shape: The edging on these shoes is supreme, and the way the outside of your foot molds over the outside edge gives you a huge advantage in outside edging ability and control. You might think its no big deal, but you'll appreciate it on some airy cross-step move. However, the pointed toe tends to get in the way more at the horizontal-holded world of the Gunks than its helpful, its biggest problem is if you have to pivot on the toe on a tiny hold or horizontal - the pointy bit would tend to knock you out from your stance as you rotated. Of course, after two rand replacements, the point profile looks more like the front of the anaszai now, and I think its changed for the better.

Overall, even though I mainly use these shoes for pulling plastic, they sometimes get hot, and will smell if you don't air them out, their control and ability outweighs that. I like these more now that they've been resoled, if that makes sense, and I do like these shoes enough that i'd buy a larger size to use in the real vertical world.
View More Details on Five Ten Prism Lace-up Climbing Shoe