Gear Review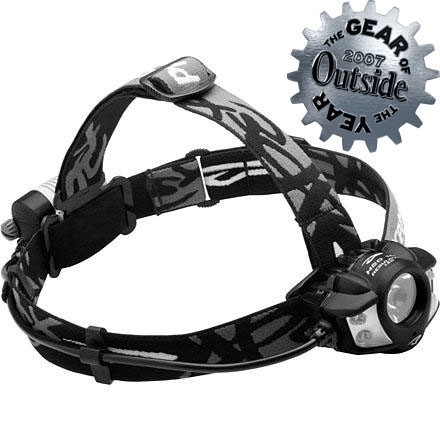 Posted on
Princton Tec Apex Pro vs Black Diamond Icon
I brought this along side the BD Icon in preperation for a last minute camping trip last Nov. I ended up using it and the my partner the BD Icon to hike to and set up camp in near complete darkness, made even worse by the heavy fog. Safe to say we got really good use out of both headlamps from a camping/trekking prospective.

Quick comparisons between the two lamps:

Battery Life: As many have said, the battery life of the Princeton Apex is not near as long as the BD Icon. If you only use the Apex spotlight on mid-power, you can improve battery life a decent amount, but it's still a battery eater compared to the BD Icon which seems to be more efficient.

Cost: The BD Icon uses AA batteries which are much cheaper than the CR123 the Princeton requires.

Bad Weather Use: The CR123 batteries in the Princeton perform slightly better in the very cold than Alkaline AA. However, if you buy Lithium Ion AA, you can get similar performance. Both lamps are pretty water tight, though the Apex claims to be waterproof while the Icon does not.

Rechargeable Option: The BD icon supports the NRG battery pack by BD. There's nothing similar for the Princeton Apex, however your can find rechargeable batteries for it if you look hard enough. As noted before, CR123 batteries the Apex uses are the same batteries used by the Steripen. I can use my solar charger for my Steripen to charge rechargeable CR123's. Very nifty.

Brightness: The brightness difference between the two lamps is noticable, but barely. The Apex puts out a little more light, but the light also appears to be a bit more "pure" than that of the BD Icon. Both lamps performed perfectly in our conditions.

Weight: The Princeton Apex is noticeably lighter weight than the BD Icon

Build: The Princeton is noticeably better built than the BD Icon. While the Icon is a solid product, the Apex simply feels more rugged due to it's compact design. Case in point, I'm replacing the BD Icon because of an over-torqued screw that keeps the battery compartment together. Granted it was likely user error, but I doubt you'd be able to do the same with the Princeton.

-

Ultimately, the decision is between the Princeton Apex and the BD Icon for me, is one between build versus battery life. The Apex weighs less and built a bit more solidly, but the BD Icon has longer battery life. I'll be probably keeping the Princeton Apex for hardcore use and getting a Petzl e+Light to use to conserve battery life when in more casual situations.
View More Details on Princeton Tec Apex Pro Headlamp