Gear Review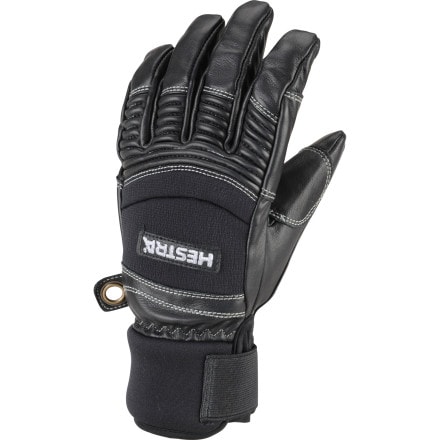 Unfortunately I ordered a size 7, based on availability, and I am usually a size 8 or 9. They fit a little tight in the palm, and pretty dang tight in the fingers, but I can tell already that they'll stretch out to fit better within a few days of wear. Being all-leather, they fit like a glove(imagine that!!!) and the looser fitting portions of the glove, namely the palm and thumb, are the warmest parts of the glove. I'd recommend ordering your own size or one down because they'll stretch, and they are so dexterous, I operate my iPod and phone with these things on. So sweet.
The liner is pretty thin, but that doesn't mean they aren't as warm as big puffy mitts- it's a polyester-bemberg lining and feels like the inside of a nice hoody.
The knuckle padding is a plus too, cool for smashing gates, branches, or the jerk that cuts you off.
Best part- It's Hestra, and they guarantee any defective glove full refund. Doubtful I'll have to worry about it but I like having my backside covered.
View More Details on Hestra Ski Cross Glove