Gear Review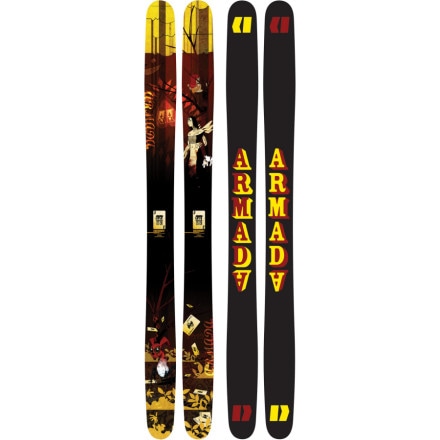 One of the best options out there.
Member since
Posted on
This is seriously one of the best options out there for either a powder specific ski, or a 1 ski quiver (depending on where you ski). The ski has just enough rocker that it feels surfy in powder. It is just stiff enough that it really wants to punch through heavy crud and choppy snow rather than getting knocked around. The ski is just stable enough that you can drop cliffs into narrow chutes and straightline all the way out. The ski is just poppy enough that you can use it as a backcountry jib ski that can land backwards in powder. The ski is just fat enough that it floats exceptionally well in new snow conditions. The ski has just enough sidecut that it can turn on groomed snow. The ski has just enough reverse sidecut that it feels effortless in freshies. The ski is light enough that you can use it as a touring ski. The ski is burly enough that it can be used as a resort ski.

There isn't enough good that can be said about this ski.

The only downside to this ski is that it doesn't do exceptionally well in the park, and you won't be able to pin olympic medal times in moguls. Some bigger skiers will also feel that the 185 is too short.

Someone marked this reviews as a thumbs down, so here is some more info on the ski:

Bottom Line: The Armada JJ is a really fun ski. It floats well at 115 underfoot, but with such early taper and rocker it has a really surfy feeling. It really can handle anything you toss at it. I highly recommend this ski to ANYONE who is looking at getting into rocker, who rides powder/crud atleast 70% of the time, or who wants a sick backcountry jib ski!

Pros: "If you have the means, I highly recommend picking one up." Seriously, they are probably the best 1 ski quiver ski that I have ever handled (for Snowbird/Alta that is). They carve fine on groomers, better than the Armada ARG or even the S7. They float and surf awesome in deep pow, and they are stiff enough to handle crud without a problem. I don't know if it gets any better than this. They carve well enough on groomers, but it is definitely not a racing ski.

Cons: My only gripe is that the ski could be slightly longer. Skis with rocker feel slightly shorter than they really are. If Armada made this ski in a 188-189 it would be awesome. The length issue may be reduced if you mount the ski on the recommended line. The pair I skied were mounted very aggressively, forward from the suggested mounting point.

It is rumored that a 195 Jumbo JJ will be released in 2010/2011...keep your eyes open.
View More Details on Armada JJ Ski