Gear Review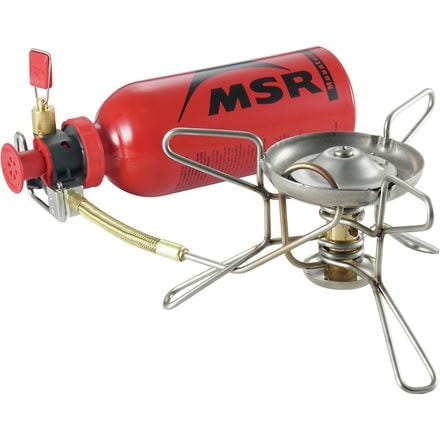 I'll preface this review with my cut and paste statement that I work as a backcountry backpacking guide in Yosemite National Park. Nearly all of the products I take the time to review have seen at least a half a season, if not more, of use... and I'm committed to not bothering to write a review until I feel like I've really gotten to know a product. I never thought I'd bother to write reviews, but I've recently decided that since I've spent so much time over these last many years reading reviews, and finding a tremendous amount of value in articulate and well-informed opinions, that I wanted to give back to the community. So, with that being said, here we go...

Disclaimer - I do not actually *own* one of these stoves, but I use them well over a 100 times every summer. We do nearly all our cooking on WhisperLites and WindPros... both of which are fantastic stoves.

Both stoves do quite well with large pots or pans on them, but this one definitely wins out for stability. The WindPro can get a little squirrely at times when you're adjusting a pot or pan, and accidentally push a leg in a bit, leading to the granite and the spaghetti getting to know one another a little too well. When faced with a choice between both stoves I'll go for the WhisperLite. Its heavier, and since we carry gear communally, its easy to choose it. If I were heading out on my own, or having to handle my own food or cooking, I'd stick with a small can stove like the Snow peak LiteMax... which is an entirely different stove, built with a different purpose in mind.

Since this is a white gas stove, and uses the fantastic MSR fuel bottles and pumps, it simmers like a champ, and is quite fuel efficient. It gets up to a boil quickly, and does very well in the cold (far better than a can stove). No sleeping with your fuel bottles when you're running white gas. Also, since its larger and more stable it can handle large cookware, and therefore cook more for more people.

Most MSR white gas stoves (if not all) require regular maintenance to keep them running well. Cleaning the valve at the end of the feed tube is important, but quite easy, as is cleaning the stove element itself. Its an easy stove to field maintain, if needs be. With the proper maintenance and care this stove will quite literally last you a lifetime.

All in all its a fantastic stove. Built to last, and as reliable as old faithful.
View More Details on MSR WhisperLite Stove