Gear Review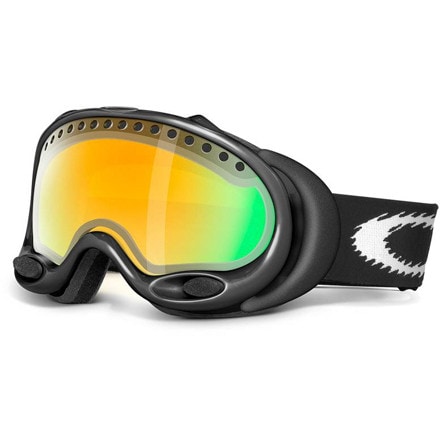 Posted on
Oakley was sloppy with the glue on these.
I picked up a pair of A frame goggles with persimmon lens at the beginning of last season. Up until today, they were the best goggles I've ever used. Awesome clarity, never fogged up no matter how wet they got, solidly built and the lens held up to plenty of abuse but didn't show it.
Today however was a different story. It was a warmer day on the hill and I was overdressed for it. The first few runs down I really started heating up and the foam started to absorb sweat causing them to fog like crazy. After a couple runs they were useless and I ended up wearing them up on my forehead over my beanie the rest of the day.
When I got home I noticed a small smudge to the right of the nose on the inside of the goggle. I took out my lens cleaner and gently tried to get the stuff of. I looked at it again through the light and the small smudge had become a huge one. I popped the lenses out in attempt to get the smudge out but it just wasn't coming out.
I tried windex, goggle defogger, glasses cleaner, camera cleaner, soapy water, and as as a last resort denatured alcohol and nail polish remover. None of these work and only smeared the stuff around even more.
Upon closer inspection I realized that the once little smudge was actually a little blob of the glue that Oakley uses to glue the piece of foam in between the dual lenses. My suspicions were confirmed when I was able to scrape a little bit of it off with my nail and realized how sticky that crap was.
My lens is shot and I'm now trying to decide if I want to risk buying a replacement lens or go with another company. If you see a small smudge towards the edge of the lens leave it alone. I learned the hard way and now my lens is useless.
View More Details on Oakley A Frame Goggle