Gear Review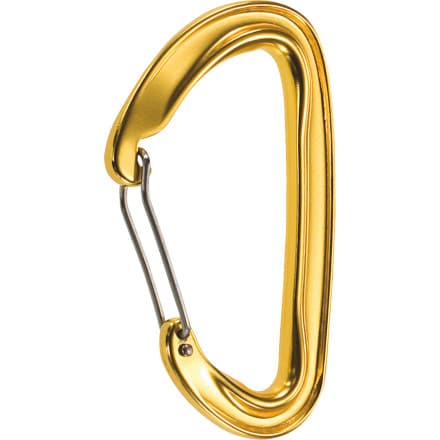 Posted on
Numerous potentially dangerous design flaws.
I'm trying REALLY hard to like these biners, but after being given one at a climbing slide show (CAMP carabiners and quickdraws were both given and raffled to audience members) I'm disappointed that they're plagued by design flaws.

First, I have to second James' review when he mentioned that the wire gate is "loose, bordering on floppy." This concern is compounded by the fact that the nose is slim and unshrouded, inviting the slightest slip across the rock to open it with ease.

Second, the part of the wire gate that's anchored to the carabiner (I'm sure there's a name for it, but it looks like the head of a pin) is so sharp that it can literally cut your finger, not to mention slings. In fact, in a couple reviews I read about the Nano (which suffers from the same problem), one reviewer mentioned that it cut his finger while checking it out at a store, and another reviewer said it tore up his doubled Spectra slings.

It's mindboggling that a company as reputable as CAMP would produce such a product. And it's not just the Photon Wire Gate and the Nano; the Orbit Twist Lock and the Photon Express Quickdraws have serious issues as well (see those reviews for further info).

Having said all that, my first experience with CAMP biners was the Photon Screw Gate which I fell in love with. It hits that sweet spot of full size and light weight perfectly, which enticed me to further explore what CAMP had to offer. I then graduated to the Photon Express Quickdraws which I recently ordered but haven't yet used (see review). After replacing the dogbones with skinnier ones I'm overall happy with them (the action of the bent wire gates is much better than the straight wire gate of the one I reviewed here), but still concerned with the potential danger of the original setup. At the same time I also ordered a couple Orbit Twist Locks (again, see review) which due to numerous sharp edges should never go near ropes, slings or skin.

Needless to say, I won't be buying another CAMP biner or quickdraw unless I check them out in person. And even then, I question their quality in general. With all these design flaws, I can't help but wonder if they're really as solid as they're rated.
View More Details on CAMP USA Photon Wire Gate Carabiner