Gear Review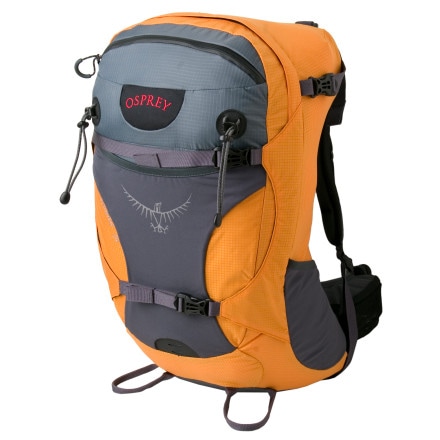 The reviews seem biased towards people who put a priority on not having sweaty backs. I haven't used this in the summer, so I can't speak to that.

As a lightweight pack for winter day trips, I would definitely get something else. The ice ax loops and snowboard/ski carry(really?) scream "Take me mountaineering", but it terribly frustrating to use for that purpose.

I have taken it on two Huntington Ravine, Mt. Washington, trips and been annoyed with the pack both times. The fasteners for the ice axes are really irritating to release, especially with gloves on. The volume of the pack is on the small side to begin with, but after a giant arched venting panel is stuffed into it, half of the main volume is gone. It is scarcely enough room to hold food, hydration, and a couple pieces of spare clothing; let alone pack the climbing gear for the hike in. I wound up packing things in the venting area, further precluding any review of its ability to vent.

I'm not sure who is stuffing a sleeping bag into this thing, but my Cat's Meow will not fit past the arch, even if it would fit in the bottom of it. Trying to get at clothing changes, food, and gear throughout the day was further frustrated by how difficult the arch makes it to get at things in the bottom of the pack.
View More Details on Osprey Packs Stratos 24 Backpack - 1300-1700cu in