Gear Review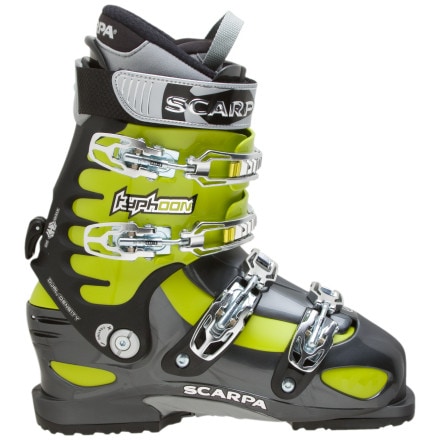 Posted on
Nice boot, Not Powerful enough for most.
I purchased these boots in February 2010, I weigh 175 and am 5' 10"...an average size person. I've answered some questions below in the past if you look at all the posts.

I like the light weight of the boot compared to others I have owned, mostly race oriented boots. The grip from the soles is okay but there are better options. I really like the Intuition liners which are super warm and provide a comfortable fit...a pleasing experience.

If you mainly intend to use this as a front side boot inbounds (80%+ resort) do yourself a favor and don't unless you're a beginner to intermediate skier. Advanced to experts on big skis won't be happy. If you are skiing wimpy front side skis (skis that are masquerading as all-mountain skis that are 175cm and say less than 75 under foot) these might be pretty good. Keep reading and you'll understand why.

Now for the important part use while skiing, I WOULD NOT recommend for skis much over 80mm under foot or heavier ski and binding combos. I have skied these with several pairs of race skis (SL's and cheater GS) and they are a bit soft but are able to put the ski on edge without a lot of trouble but are still too soft for hard charging. However, once I step into the 90+mm under foot ski (Mantra or Prophets) they just don't have the power to put that ski on edge on firm snow and icy snow. Now stepping into skis like the Katana 183 with Duke bindings and ski anything other than soft snow or powder forget it, these boots are no match for skis that size and weight. Imagine skiing some sweet pow and then hitting some steeps, wind packed snow, hard snow in a chute, steep bowl or coulior and whoa!! You'll need to put the big ski on edge and you will not be able to easily you'll have to get really low but the boot just doesn't have the power you'll want. Not good.

I purchased these mainly to stand around during races as an official so I can keep my feet warm and they certainly work well for that.

I'm going with two stars now after an entire year with the boots to give an honest opinion rather than the new owner that is so happy they really won't give you the right information.

The build quality is decent the buckles are good but the heals of the boot are really getting chewed up by the bindings the material seems a bit soft and I don't think they will last for several seasons.

I think I'll look into the Tecnica Agent 120, Tecnica Agent BC or Black Diamond Factor as I want good walking grip for walking on rock and wind blown snow while hiking, they need to be warm but most of all they need the power to drive some big skis. If you need these three features look elsewhere as the Typhoon just can't perform on bigger skis. I don't think these are even close to the 110 flex as advertised, I ski a 130 Nordica when I race and these aren't even close (unless my 130's are really more like 150 and they aren't.) I'm not happy and am about to hemorrhage more cash to get the right boot.
View More Details on Scarpa Typhoon Alpine Touring Boot