Gear Review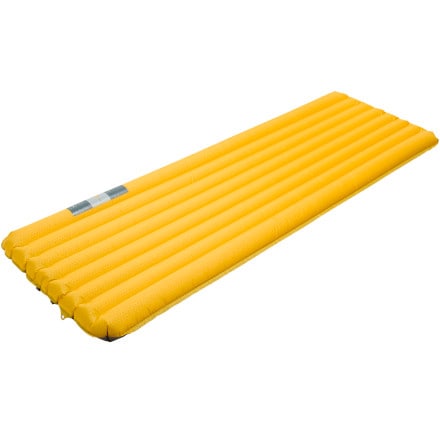 Posted on
Nice and Warm and Comfy
I have not yet used this enough to speak to it's long term durability, however, I am impressed with how comfortable this pad is. I have used a couple different kinds of Thermarests: the Prolite and an older basic model, along with the RidgeRest (sp?) foam pad, and was never so comfortable as I was the few nights that I spent on this pad in cold weather. The very first night I used it was unexpectedly cold because we planned poorly and didn't watch the weather. We had planned on 35 to 40 degree F temps but when we woke up our full Nalgene bottle was frozen solid and my in-pack Camelback was slushy. Later we learned the temps were about 22 deg F. I was in a sleeping bag which should have been only comfortable down to about 30 deg F based on previous usage, but was undoubtably helped by this pad to keep me comfortably warm to well below freezing. The following couple of nights it wasn't as cold, but still below freezing. Because it was the only piece of equipment that was different from previous trips I am sure that this pad helped my trip to be comfortable.

It takes up about as much room as a Nalgene bottle, weighs very little, comes with a nice repair kit in case of puncture, inflates quickly by blowing it up (MUCH faster than a so-called self-inflating Thermarest,) and appears to be much more durable than the NeoAir.

Not only that, but this is the first pad I have ever slept on where I have awoken with no tingling or soreness from lack of circulation. It was so comfortable to sleep on it that I actually overslept. I hope that this pad proves to be as durable as it appears and lasts forever. I really love it.

The only downsides I have identified are (1) the cost, and (2) the problem that some people have complained about where their sleeping bag slides around too easily on it. I haven't had the sliding issue, but then again I was on mostly level ground the nights I used it. There are a couple of loops on it where you can lash your bag to the top of it, but I didn't have to do that.

I have become a huge Exped fan. They really seem to produce top quality lightweight equipment. I also have their inflatable pillow and have nothing bad to say about it either.
View More Details on Exped SynMat UL