Gear Review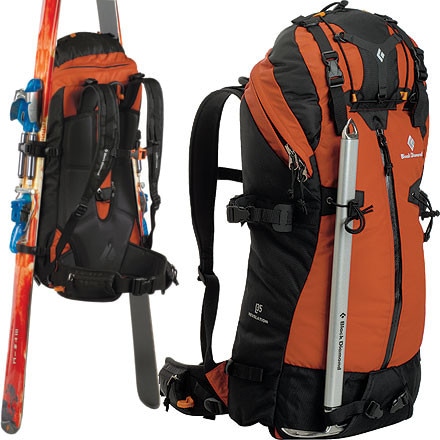 This is my first dedicated skiing pack. I used to use a plain 35L mountaineering day pack and just carry the skis A-frame in the compression straps. Well, that pack died, so I picked up this bad boy. I'm quite fond of it now, though there are a few drawbacks.

Pros:
-A-frame ski carry works great. The straps are good, it goes on easy, and the skis are secure and don't flop around, even with pack less than full.
-Shovel/avy pocket is easy to access and holds shovel and probe nicely. It's nice to both know that I'm not going to lose my shovel but it's still easily accessible for when I need it.
-Straps and suspension are comfortable and secure. I've read complaints about them being too thin, but they were plenty padded for me even with just a base layer on underneath them. In fact, I think this may also become my summer long day trip pack as well.
-The suspension is good so that the pack doesn't flop around even when not 100% full for me. I've never taken it out less than 50% full; maybe the complaints along these lines were with a less than 50% full pack?
-Ice axe carry is secure but still easy to get axe on/off, even with short (50cm) axe.
-Top is easily accessible
-Crampon straps on top of pack work well, especially with BD crampon bag.
-Construction is solid; the fabric is good ripstop and the seams are well done. I don't expect this to wear out anytime soon.

Cons:
- The waistbelt pockets are useless. They are too small for pretty much everything, including an energy bar. You could fit a single key or a USB stick in there...but why would you want either of those closely accessible in the backcountry?
-Helmet carrier won't hold any of my helmets; they're all way too big. Not such a big deal, I tend to wear my helmet anyway, but be warned if you've got a big head and want your helmet on your pack.
-Hydration bladder (i.e. Camelbak) support is lackluster. There's a singly hole in the center but it's too small to get the mouthpiece through easily. This isn't a big deal for me because I generally don't use Camelbaks in the snow, I carry HDPE Nalgenes.
-No outside side pockets. Sure, these would interfere with the A-frame ski carry, but as I carry bottles it would be nice to have them easily accessible. I guess I'm asking the impossible here.
-Lack of diagonal ski carry. Some like this; I'm fine with A-frame.

The cons are kind of overstated; most of them are minor quibbles for me. It's fairly well thought out and the compartment design works well for me. Construction is very good. Overall I'm very happy with the pack and would purchase another one.
View More Details on Black Diamond Revelation Backpack - 2136-2746cu in