Gear Review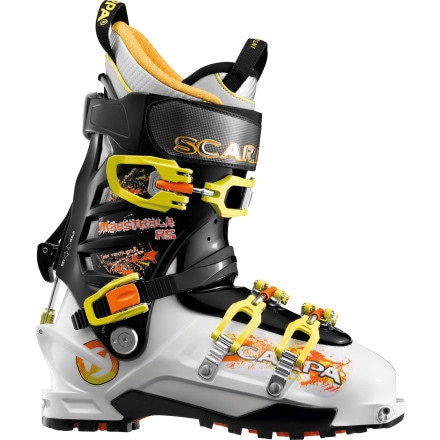 Posted on
My perfect backcountry boot.
I've spent the last year or so building my perfect quiver. The Maestrale RS completed it, slotting into the light-weight, free-walking, but burly slot in my boot collection.

I ski a pair of Ski Logik customs - 145-115-142 and 188cm - mounted with Plum Guides. I haven't measured, but overall weight is close to, if not under, 10 lbs. The Maestrales are similarly light. Everyone who has picked it up has commented on that. And, it really makes a difference. I drop at least two pounds from each stride with the Maestrale and Plums as compared to the Cochises and Dukes I ride in the resort.

I have a pretty wide foot - my Cochises with HV Intuitions are punched for the 6th toe. While we haven't gotten the Maestrales perfect yet, I think they should work without a punch. Length is spot on - 26.5 in both Cochise and Maestrale. I have a 1.5 finger shell fit in the Cochise and a 2 finger fit in the Maestrale - plenty of room for the toes while touring. (Remember - Scarpa splits on the half size instead of the whole.)

The 120 flex Maestrale is on par with the Cochise 120 in overall stiffness, but flexes differently. Where the Cochise - an overlap, alpine-style boot - has a pretty linear flex, the Maestrale feels a bit more progressive. I also find that I ski the Maestrale in a much more centered and balanced style, where I drive the Cochise forward hard and beat it around.

The side-hinged tongue takes a bit of adaptation, but becomes second nature very quickly. With it out of the way, entry and egress is a piece of cake. I'm not sure both of the forefoot buckles are necessary. They are really close together and I don't feel like they serve separate purposes when I close them. Unlocking the walk mechanism provides huge range of motion. I think the boots are capable of more motion than my ankles.

Overall, my perfect touring boot. Light and flexy for the up; stiff and burly for the down.
View More Details on Scarpa Maestrale RS Alpine Touring Boot