Gear Review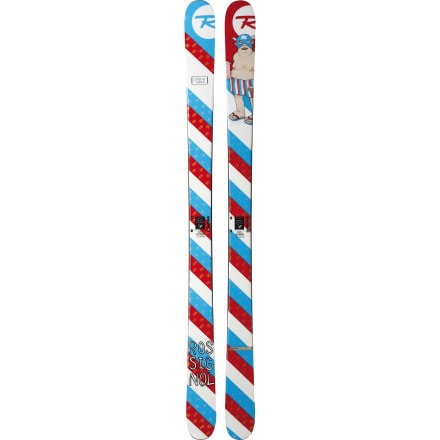 My go-to park ski
Member since
Posted on
I'm 6'2" 210 lbs and run this ski in a 180cm. I have two pairs of them, both center mounted. For a bigger guy like me the 92mm underfoot helps with stability when landing and gives me a nice platform when sliding rails. These skis are light and agile. They spin and flip nicely and are generally forgiving on washouts. Rossignol makes some of the best flex patterns in their twin tip skis, and the flex on these is great - generally poppy and energetic, offering solid rebound energy in turns and particularly good pop off the tips and tails when you really put your weight into them. I can tame dog these off basically anything. Bonus points for the hilarious fat Captain America eating a turkey leg graphic (graphics by one of the artists over at www.spacejunk.tv ).

The one negative complain I have about these is sidewall durability. While overall topsheet/lamination durability is solid, I did manage to cleanly tear a one inch chunk out of the sidewall, directly underfoot. This was definitely my fault from hitting a rock, but the odd part was I cleanly ripped out sidewall only, leaving the topsheet and also the edge perfectly intact where the impact occured. In my mind this seems like Rossi used low quality sidewall material in the construction of the ski. My solution was to actually transplant a spare piece of sidewall material onto the ski and then screw/epoxy it into place.

Overall, these skis rock and I highly recommend them to larger sized park skiers.
View More Details on Rossignol Storm Ski