Gear Review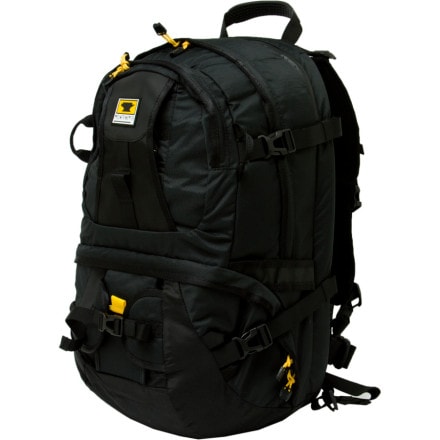 Mountainsmith Borealis AT
Member since
Posted on
Product Review: Mountainsmith Borealis AT Daypack
By Soren McCarty

Camera Bag and Alpine Touring Backpack

First Impression: When I found out Mountainsmith made a Camera bag, that allows you to attach your skis or snowboard, I thought this is the perfect item for me and the Mountain Weekly's readers. The Backpack is well designed and rugged, they even used recycled materials in the making of this bag. The recycled plastic bottles used to make this bag, are both good for the environment and make the bag extremely strong. I look forward to testing this at Red Rocks this summer, as well as on bike and on trail as well. So I plan on writing a second follow up review. The Bag is well designed with plenty of room for camera gear, backcountry essentials and even fits a laptop.

Design: The Borealis AT Daypack is a daypack used to carry camera equipment as well as essential items. The Lower area of the pack has a clamshell opening making it easy to access camera gear in the field. Within the clamshell are dividers with Velcro that allows you to customize the pack to your specific needs. This is a great feature as everyone has different equipment they to choose to carry when going into the backcountry. The Velcro inserts also insure that you camera is snug and safe in the bag, and prevents lenses and camera bodies from bouncing around during travel. The top area of the pack has three main pockets, a smaller outer pocket, mid sized inner pocket and deep inner pocket with an area to safely carry a laptop computer. The smaller outer pocket has a keying, and a zippered pocket to carry various items. The mid sized pocket also has a zippered pocket within, and a false bottom allowing access to the clamshell area of the pack, making it possible to get to the camera in variable weather conditions without getting you gear wet. The false bottom closes with Velcro and allows you to carry various items in this area, so it has great dual purpose. The laptop pocket has a neoprene sleeve that holds up to a 17-inch laptop, this keeps the computer secure and upright while hiking. The laptop sits behind the back of the hiker, keeping it safe from the elements and easy to access when needed. This pocket has enough room to carry other items as well; I usually carry a sweatshirt and extra socks and gloves in this area when going into the backcountry. The top of this pocket also has a rain cover stowed in a small pouch, this is easily accessible and can be dispatched in seconds if a storm rolls in. The pack has molded back panels making it more comfortable that any of the other camera bags I have owned. The shoulder straps are padded as well as the waist belt, which has two small pockets for keys and other small vital items. The bag has compression straps to hold skis or a board. There is also an area on the back to carry attach a tripod or monopod, the pack is made out of a material called ReDura which is made up of recycled water bottles.

Weight: The Borealis AT is extremely lightweight, while being heavy duty. I loaded the backup with all my backcountry gear and camera equipment as well as laptop for it's maiden voyage. I wanted to see the weight distribution and if it could carry all my equipment without being too cumbersome. It passed with flying colors, it must have weighted close to 50 pounds full loaded. Due to the camera being in the bottom and the contoured nature on the pack it was surprisingly easy to hike and snowboard with it. The weight was stable and the cushion on the back was comfortable and I could not feel the laptop behind my back, I have noticed this with other packs I have used.

Ease of use: The clamshell pocket makes grabbing you camera a breeze; you won't miss the shot while fumbling to get to your gear. The laminated zippered interior pockets are great for storing media storage and batteries as well as sharpies, biz cards and lens clothes or any other small items you need to get to fast. The rain fly folds up easily and is out of your way, when not being used.

Alpine Touring: This pack was designed to go into the backcountry, and skis attach on either side of the pack with the ski tips facing up. This only takes a few seconds with the cinching of the compression straps on either side; you are ready to start hiking. I put my snowboard behind my back and then cinched down the shoulder straps and waist belt, it was fit snug and was more comfortable that I had expected.

Testing Locations: Denver, Boulder, Loveland pass, Vail and surrounding area.

Colors: Black

Retail: $189.00 USD

Overall Impression: I was very impressed with the quality and though that went into this pack. It has been extremely durable and easy to use; it travels well and will go toe to toe with anything out there. I also like the fact that Mountainsmith used recycled materials in the building of this product. I look forward to taking this camera bag on all types of shoots, and it so far has been better than the bags I have used it the past. I have had many over the years, and blown out the zippers on many. This bag will fit you outdoor lifestyle, it will also fit my photography lifestyle which happens to be outdoors much of the time.
View More Details on Mountainsmith Borealis AT Camera Backpack