Gear Review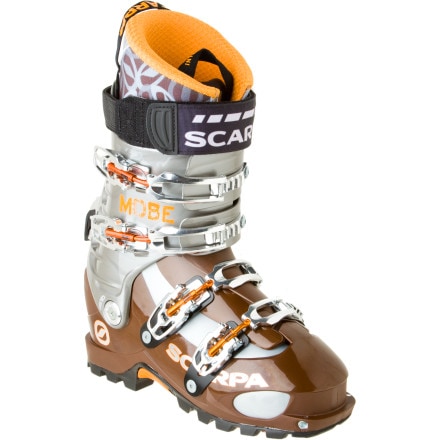 Posted on
Mobe is _THE_ AT boot
Let me preface this by saying I already own a pair of '09 Spirit 3, '08 Spirit 4, and '06 Denali XT. I ski with the black tongues on the Spirit 3 and Spirit 4 to stiffen them up. I have owned Garmonts and rented Dynafits, but with a wide, flat, large foot (30.0 / 12.5 US / 48 mondo) Scarpa is the boot for me.

The Mobe is evolutionary, not revolutionary, but it has a bunch of tweaks which make it far superior to any of the models I already have. (1) The inner "boot board" is a HUUUUGE improvement. That feature in and of itself is enough to upgrade to the Mobe. For the first time in a Scarpa boot, the floor of the boot is almost totally flat. I didn't have to mess one bit with the multiple shims and endless insole futzing necessary with my Spirit 3/4. I simply molded the liners and was ready to rock. The boot board brings the volume up to that of a normal boot, so no more multiple 1/8" shims necessary to bring the floor of the boot up to reduce the volume to normal. (2) The much-increased stiffness (125) doesn't (to me) make the boot much harder to walk in, but it skis WAY better. My first day out this week (first week of Dec in Ogden area) I climbed for 3 hrs straight right from the car, brand new Mobe's, no pain, one small blister on one instep. The snow was super-gloppy, on the way back down I really REALLY appreciated the extra stiffness. I didn't even need to buckle them down hard, I could cut through crud with the boots barely buckled without feeling wobbly in the least (skiing Scott P4 w/Fritschis). (3) The newest iteration of the walk/ski latch feels very positive and more substantial than the older Scarpa latch. (4) Intuition liner has been upgraded slightly with tougher materials and seems to have slightly higher volume than the older Scarpas (5) buckles are more like alpine buckles, thicker and more positive. (6) Power strap is wider.

Yes it's a little heavier than the Spirit. I'm 6'2" and 220 lbs so the slightly higher weight of the boot isn't as noticeable to me as to some of you lighter skiers. I will probably still use my Spirit 3 for days when I'm mostly hiking and when the powder will be light and un-chopped. On those days I also use a lighter ski, I've got a pair of Scott Powd'Airs and a pair of Coomback 188 for those hiking marathon days.

Love my Mobes, worth every penny.
View More Details on Scarpa Mobe Boot