Gear Review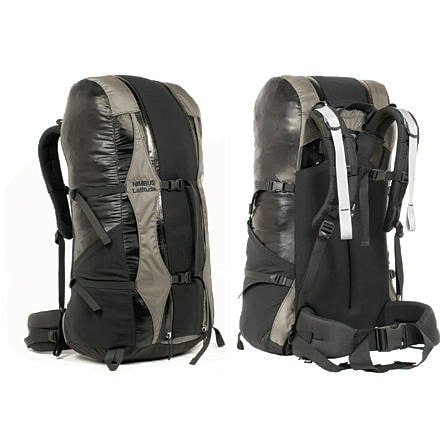 Posted on
Long since discontinued, but...
I'll preface this review with my cut and paste statement that I work as a backcountry backpacking guide in Yosemite National Park. Nearly all of the products I take the time to review have seen at least a half a season, if not more, of use... and I'm committed to not bothering to write a review until I feel like I've really gotten to know a product. I never thought I'd bother to write reviews, but I've recently decided that since I've spent so much time over these last many years reading reviews, and finding a tremendous amount of value in articulate and well-informed opinions, that I wanted to give back to the community. So, with that being said, here we go...

This pack, along with my boots, insoles, sleeping bag, and Nalgene bottle, are among the few pieces of gear that are the unsung heroes that don't get quite enough recognition. More than any other pack, this is the one that I've gotten to know very, very well. I've spent nearly a total of three months with this thing on my back, and I can't speak highly enough of it.

I wouldn't call it an ultra lightweight pack, being over 3 pounds, but its weight is certainly reasonable. However, its design is ingenious, and nearly perfectly designed for what I do.

Working in Yosemite as a backpacker means having to relegate yourself to always accommodating a bear can in your kit. Its a given. Boots. Check. Socks. Check. Water. Check. Bear can. Check. It goes with the territory, and its totally worth it. However, finding a pack that will accommodate a bear can comfortably is not an easy task. And, I will say this unequivocally, there is not a single pack ever created (that I've run across, and likely even those that I haven't) that seems so perfectly designed to deal with a bear can. That 'top' of the pack, where the lid would normally be located, is a unconventional, rounded top that fits both BV500s and Garcia bear can perfectly. I can pack my kit with my eyes closed. Sleeping bag in the bottom, NeoAir, tent, rain gear, mess kit, odd and ends bag on top of that... then stuff sack (Flash 18 day pack) filled with a few bits of clothing, then snacks, then bear can in the top of the pack. The rounded top fits the bear can perfectly, and holds it snugly in place.

I'm currently in the process of considering a few new packs - a Granite Gear Crown 60, an Osprey Exos 58, and an REI Flash 62. None of them hold a BV500 horizontally, though they'll all fit a Garcia (we have to carry both types, depending of the trips/clients). This means I'll be strapping a BV500 on the top of the pack, under the lid, or using the top straps. Its a serious downer because no amount of straps or securing will get a bear can to feel as molded to my body as this pack.

Aside from the obvious advantage with bear cans... the Nimbus Latitude is very comfortable, relatively lightweight, though minimalist in many ways. It has only two external pockets, and neither will hold a Nalgene within grasping distance, which means you'll have to either have a friend hand you your water bottle (and put it back), or you'll have to buy a little strap mounted pouch to hold your water bottle. Not a big deal to me. I just bought a belt mounted holder for my Nalgene.

The two, small external pockets are plenty for me. Toilet kit and trowel go in one side, tent poles and extra water bottle go in other. The external straps help secure the internal load, and the waist belt and load lifting system on the shoulder straps are well-designed, providing a very, very comfortable distribution of weight. The vertical double zipper system is a bit odd, but works well, particularly if you like having access to the bottom of your pack without having to disembowel it. The zippers are bombproof. God knows I've abused them, and they still track perfectly.

I've had 42 pounds in this pack and it felt fine. After eating my way down to 37 or 38 pounds I found a magic limit where the pack gets happy, and becomes quite comfy. From the mid 30s down this pack is very, very comfortable, even on difficult terrain such as talus. I've had to boulder hop for miles with this pack holding 35 pounds or more... and I wound up forgetting I had it on.

Honestly, I'm considering not even bothering replacing it. Being a gram weenie that's getting older by the day I'm always trying to find new ways to save weight... and if I can't find just the right pack that is comfortable and just a little over two pounds... then I'll just stick to this Old Faithful of mine.

If you can find one still for sale, pick it up. You will not be disappointed. And, if you are, and its a long torso model... drop me a line, I'll buy it from you.
View More Details on Granite Gear Nimbus Latitude Backpack - 3800cu in