Gear Review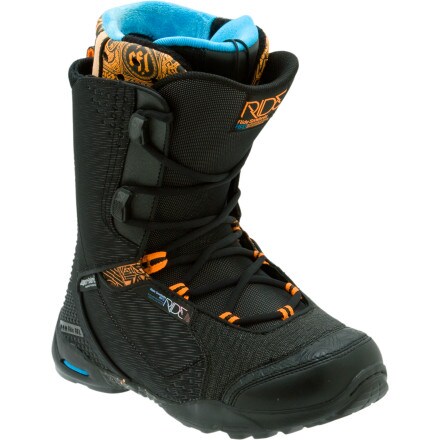 Posted on
Light, Responsive, True To Size & Durable
I'm pretty damn hard on my snowboard boots, I typically can get about 40 days out of your average pair before they're packed out, broken down and ready to be replaced.

I spent my last 40 days of the 2009 season (Feb/June) in a pair of RFLs and extremely happy with how they performed and held up.

I normally wear a 10-10.5 in my shoes/boots and found that the size 10 in these boots suited me. They were a bit snug to start off, but after 5 days the toe box had expanded enough that the pressure went away.

These boots are very stiff to start out and unlike other boots all the support and flex is actually in the dream liner, not the shell of the boot. After about 10-15 days of riding they soften up to a medium/stiff flex (7 out of 10). To put that in perspective, I would say that after 15 days they were the flex that the FUL boot starts out as.

The inner harness is one of my favorite features as it clips into the tongue of the liner and stays tight and in the same place all day. So you don't get any of those "hot spots" from it loosening up or shifting to the side. They have also eliminated the strap at the top of the liner, there are two velcro tabs that connect the tongue to the liner. Which is also nice as the tongue stays in place all day and doesn't shift to the side causing you to have to untie your boots and do everything back up.

At the end of the season I was happy that after 40 days everything the boots didn't have any significant wear and tear & they weren't packed out to the point that they were too soft to ride. If you're hard on your boots, these are definitely worth taking a look at for your next pair.
View More Details on Ride RFL Snowboard Boot - Men's