Gear Review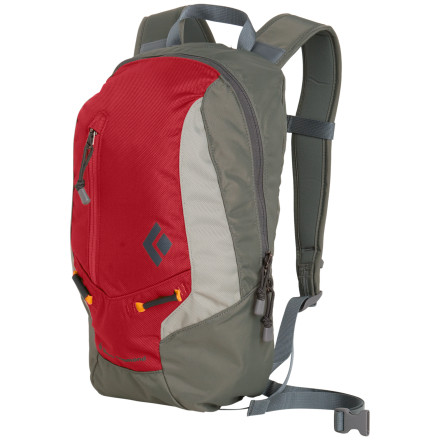 I use this for everything from school, to the gym, to the crag, to trad.
What I carry in it:
--COLLEGE:
• 13" Mackbook Pro
• 1" three ring binder
• Small notebook
• Pens, pencils, eraser
• Bike lights, keys

--GYM:
• 2 pairs of climbing shoes
• Chalk bucket
• Brotein shaker bottle
• Nano Puff

--CRAG:
• Shoes
• Harness
• Chalk bag
• Biners/grigri
• Snacks
• Water bottle

--TRAD:
• Water bottles
• Descent shoes
• Hand warmers
• Emergency blanket
• Nano Puff
• Rain shell
• Cliff bars

Yeah, this thing does it all! It's pretty small, but it's perfect for my needs. It's super durable (I had to drag it up a slabby chimney on pretty rough terrain, and it's hardly even scratched), the gear loops are bomber, and it's super comfortable/lightweight. My only complaint is that the pocket is shaped kinda weirdly, but it's not a big deal.
View More Details on Black Diamond Bullet Backpack - 976cu in