Gear Review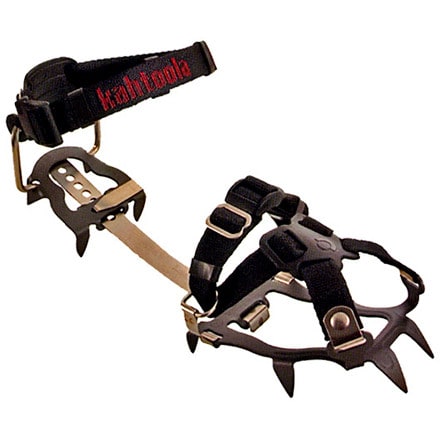 Posted on
Kahtoola KTS Steel
My review might be a little biased as the Kahtoola KTS Steel is the only crampon I've ever seriously used. However, I really don't see the need to use any other for anything but the most technical climbs. If for some reason you might think these crampons are not quite beefy enough for hardcore use, just consider that Lhakpa Gelu Sherpa set the former speed ascent (10 hours 56 minutes and 46 seconds) of Mt. Everest using a pair of Kahtoola KTS.

I purchased my pair of Kahtoola KTS steel crampons before climbing Gannett Peak, WY. This was my first glacier climb, and admittedly was rather naive and made many silly mistakes. One mistake I didn't make was choosing the KTS. The first thing that appealed to me was that these had been called "racing" crampons. I didn't want to spend 500 dollars on crampons and mountaineering boots, and the Idea of crampons strapping onto practically any piece of footwear was very appealing. Add to that they were the least expensive crampon I could find at the time. :-)

I will fully admit… using my Brooks Adrenalin road runners was a weeeee bit of a mistake on Gannett, but the crampons worked exactly how I would expect them too. Since Gannett, I have used my Kahtoola KTS on Mt. Hood, Mt. Rainier, and Mt. Shasta. On the latter three peaks I upgraded my footwear a bit; using the Asolo Fugitive GTX on Hood and the Raichle (Now Mammut) Mt. Trail XT GTX on Rainer and Shasta. On all peaks the KTS performed beautifully.

The advantages should be fairly apparent. The leaf spring allows you to wear flexible footwear. This means lighter more comfortable travel. In my opinion the ability to move quickly and agilely, more than compensates for perceived shortcomings that the Kahtoola might have against a C2/C3 set up.

As with any product the Kahtoola KTS is not perfect. Adjusting the crampons with mittens is next to impossible. The Leaf spring can get bent. I took a hard fall on Gannett (not the crampons fault, I was being dumb) flew over the bergschrund and the first thing to hit the side of the mountain were my Kahtoola KTS. I tweaked the leaf spring a bit. Once I got back home I adjusted them a little and haven't had any problems since. After a awhile the rubber bands that hold the excess strap in place can become brittle and break.

I'm not sure where my next glaciated climb is going to be, but my Kahtoola KTS are going to be right there with me.
View More Details on Kahtoola KTS Crampon