Gear Review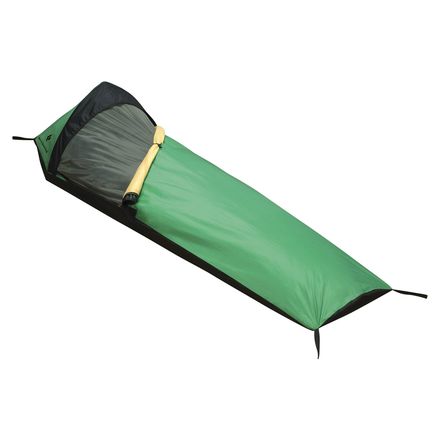 Posted on
It Does the Job
In mid-September, I used my Black Diamond Bipod Bivy during a four day hike on Katahdin and around Baxter State Park in Maine. Needing to replace a worn out bivy, I bought it with the idea that it would serve several useful functions at a weight of only one pound thirteen ounces: it would keep me safe from mosquitoes, it would add to the warmth of my sleeping bag, and it would provide emergency shelter should I get stuck somewhere on the trail and have to spend the night away from the campgrounds where we had reserved lean-tos.

A frosty first night made the issue of mosquitoes moot, but I was pleasantly surprised at how warm I was during the night inside my sleeping bag and bivy sack. Soon after lying down I became too warm and had to remove first my fleece jacket and then my wool sweater to get comfortable for the night. I tucked them alongside me in my 20 degree down sleeping bag so they would be warm in the morning when I put them on again. I also tucked my water filter inside the bag because freezing might damage it.

I didn't put up the bivy's hoop as there were no bugs and I wanted to sleep with my face out in the air. My five foot ten inch and 145 pound frame found plenty of room inside the bag and there was lots of room for my jacket and sweater down one side of the bag and for storage on the floor of the bag above my head. I felt inside the bag in the morning and found no condensation.
View More Details on Black Diamond Bipod Bivy Bag