Gear Review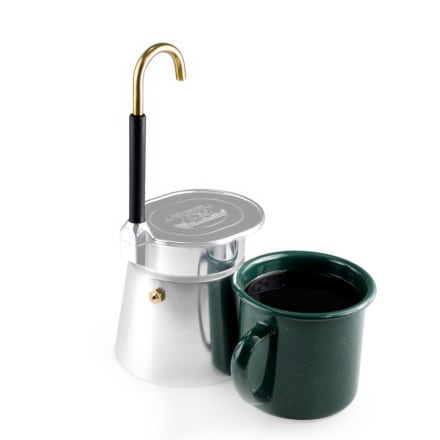 I've had one of these great 4 cup moka-pots since around 1995. Back then, I was using it to make espresso (technically not espresso) while on surf safari in Mexico. But over the years, the brass tubes would break. As they did, I would set it aside and obediently buy another. I took them on rock climbing trips, backpacking trips and used them while on the road. This has been for me, an exceptional way to make great coffee for over fifteen amazing years.
That being said, there are a couple of flaws. One is the metal cup. Use it as a pen holder and buy, as what we came to know it as, the 'Bodhisattva' mug; the perfect mug. See attached photo. Get a mug identical to the one pictured and rig a short piece of silcone tubing from the brass tubing to the mug. Well, until the brass tube breaks. The second problem, that may have been addressed by GSI since my last purchase, is the brass tube. I've broken many. But, a few years back, I learned how to replace that tube with silicone tubing and polycarbonate fittings. You can see how I did this on the ArdethGear website.
It's really too heavy to take on serious backpacking trips. On those, I make cowboy coffee. But, on shorter trips, I love the GSI espresso maker. I've gone through a bunch of these, replace a dozen gaskets and installed silicone tubes many times. But, I've used it hundreds of times over the years.
It does require some finesse, however. Put the flame on high until a little coffee begins to come out, then reel it way back to low and let the coffee come out at a trickle.
View More Details on GSI Outdoors Mini Expresso Set