Gear Review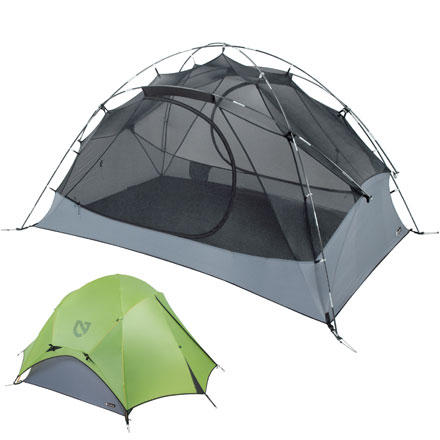 Posted on
Ingenuitive design makes for a pretty amazing tent.
When shopping for a new tent my specs were as follows: two person, double door, double vestibule, light enough to backpack with (but I'm not really into weighing everything down to the ounce, so not super-light) but big enough to make it a home for a week. I also wanted my 6'4" boyfriend to be able to sleep comfortably. After many months of researching, shopping and reading reviews I ended up with the Losi 2P. And couldn't be happier! After a full summer season of camping here are what I found to be the best aspects of the tent:

1. The poles AND the rainfly attach into plastic pieces found at each of the four corners. The system is strong and makes it very simple to put up and tighten/loosen. The guy line attachments on the rainfly also allow for easy adjustment after you've staked up instead of having to adjust the length of the cord or the knot. The line itself is reflective, saving you from tripping over it in the middle of the night.

2. Instead of a stuff sack you get a full organizer, which is awesome. I have never seen a system like it. It has individual pockets for the poles, stakes, and the body of the tent itself. It then rolls up and is cinched by two clip-straps. I LOVE it. It's great for car camping and keeps the poles and stakes from tearing up your tent and/or rainfly. It also means that if you want to backpack you can ditch the organizer and about a 1lb of weight. Which actually makes this tent reasonably light.

3. The tent includes (1) gear organizer, which was a pleasant surprise. The initial review did not mention this so I was pretty stoked. The gear organizer has about 6 pockets, two of which are set up so you can place your headlamps in them at night and it lights the tent up. Also removable (for those concerned with weight). The tent itself also has two small side pockets.

4. The included stakes are very strong as well as light. My boyfriend has commented numerous times about how impressed he is with them. Haven't had to replace a single one after a season of heavy use.

5. This is an extremely roomy tent. There is a ton of head room and my boyfriend of 6'4" can sleep flat on his back without touching either end.

My only worry is that the tent itself is mostly mesh, and when I received it there were areas that the individual fibers were already bunched up (the makings of small holes). You have to be careful. The floor material is also thin so some type of footprint is a must. Even with those things considered I would purchase this tent again in a heartbeat!! Oh, and every time I have put this tent up, be it in Moab, Silverton, Durango, etcetc, people have approached me about it. It's just a good-looking tent on top of it all.
View More Details on NEMO Equipment Inc. Losi 2P Tent: 2-Person 3-Season