Gear Review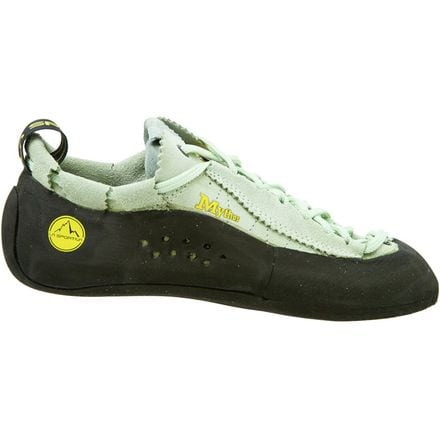 Posted on
I'll buy these forever
I will buy these shoes again and again. They're a great trad shoe and would make an excellent all around beginner shoe as they're not the least bit painful. I've had my Mythos for two years now and have thoroughly loved them. They are super soft and comfortable and work well for everything but overhangs and intense edging. I mostly use them for crack and mellow slab climbing. Although they don't have any padding in the toe for jamming, the rubber wraps up high enough to keep the toe pain to a minimum. They also work great on LCC granite slabs- when they stop sticking, I just wipe the soles down with some rubbing alcohol and they're good to go again.

These shoes stretch about a full size within the first couple weeks of use, and then they never really stop stretching. I have pretty wide feet so I originally bought the men's version of this shoe (the orange ones). Once they stretched out they were too wide for my feet so I ended up with this women's model. The lace wraps all the way around the shoe opening and makes it easy to keep them tight, even though mine are loose for all-day comfort. I usually wear a women's 10 and a 41.5 in these is perfect for me.

My only complaint with these shoes is the difficulty of re-threading new laces. Even through I unthreaded the first two eyelets, climbing cracks eventually wore through the laces near the toes. There are no real eyelets in these shoes besides the first two, so the new laces have to be threaded around the entire shoe and through the leather grommets (you can see this in the stock photos). It takes a really long time.

I hope La Sportiva never stops making the Mythos!
View More Details on La Sportiva Mythos Vibram XS Grip2 Climbing Shoe - Women's