Gear Review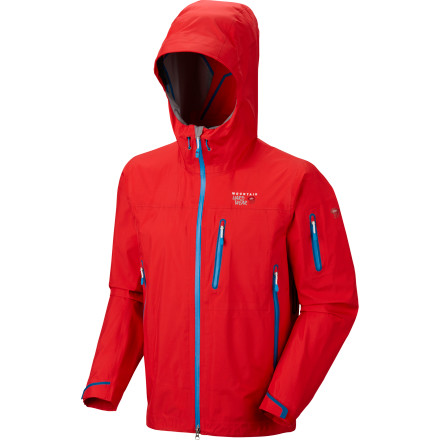 Let me see where to start. I am 6-1, 200 lb, with an fairly athletic build. About a 45 1/2 coat size. Bought the Jovian because of the DryQ Elite fabric. And also because I got a deal on it through Mountain Hardware's Pro Purchase. Had I paid full price, I would have been annoyed overall.
As most have said here, the fit is off. I bought a large hoping the shell would fit close to my body, as I only wear shells when necessary and do not layer underneath. I don't use shells for any warmth etc, only for bad weather. So, I wear a powerstretch or similar base layer underneath and that would be it. Good thing because the fit is tight across the shoulders and back. Also, as one person mentioned here, the sleeves are short. But get this, after I was wearing it i could swear the right sleeve was shorter than the left. Guess what? It's about a half inch shorter! Seriously? Ok, now for performance.
I have used this shell enough to write about it. My longest trip was to Ecuador for some volcano climbing. We had some bad weather so I wound up using it quite a bit, from acclimitization hikes in the rain to some bad weather, wet snow and high winds on the bigger mountains. Here are some of what I found:
1) Zipper is crazy tough to work. I noticed the curvature of the neck contributes to the problem. Once fully zipped up and you are trying to unzip it, lift your chin up toward the sky, hold the shell with one hand under your chin and unzip with the other. This sort of straightens the neck line and it unzips easier.
2) The fabric seems to pull some moisture from your body, but it traps it in the pockets...what I mean is I had an iPhone in the chest zipper pocket and it got soaked (was not raining but snowing). IT seems like the moisture does not fully travel through the layers? Not sure, but Goretex Proshell seems to breath more efficiently.
3) Cut is not super low and barely is below my harness. When you lift your arms over your head to place a tool or whatever, there is not too much room in the shoulders and there is quite a bit of lift.
4) Wind did not penetrate material, and it was good. I also like the material better than Proshell in terms of comfort, sound. I thought the softness of it would mean durability issues but not so. The material is pretty tough as I was hit with some big chunks of ice, rolled and there were no abrasion marks. I also threw it in my pack and was tired and threw my crampons on top and they didn't puncture or tear. I was surprised at that, so that is good.

Overall, a decent purchase but I qualify that due to the price I got it for. I would be disappointed had I paid full price. It's good overall but far from exceptional.
View More Details on Mountain Hardwear Jovian Jacket - Men's