Gear Review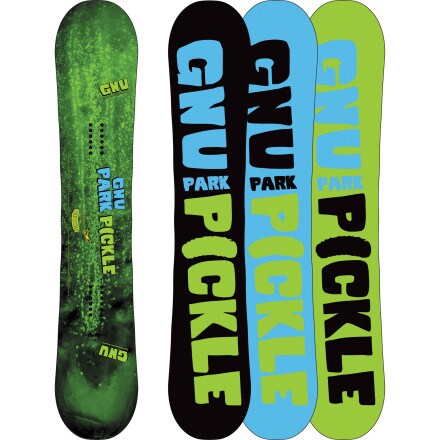 Posted on
Here's The Pickle. Here's My Review.
GNU's Park Pickle. I love this board, and i have had ZERO buyer's remorse. It was my 2nd season out and 8 days at Snowmass/Aspen, Colorado sealed the deal for me. Here's the run-down.

I didn't get my board from Backcountry.com, but i guess it doesn't matter because Backcountry does things right. So anyways, a little about me. 5'8, 140 lbs., intermediate rider, that prefers cruising the groomers and hitting natural jumps, with butters all over.

That said, let me get into the tech that i liked. Magna-traction = ill. Asymmetrical sidecuts = easier heelside turns. BTX = Rocker Done Right. I really felt the Magna-traction when i'd go over icy spots. It didn't snow the whole time up in Colorado, so the first couple of days were nice, declining with every day. By the end of the trip i'd hit a couple of patches of ice, and with a Burton rental i would have wiped out. With the Magna-traction, to me it helped. More contact points, better contact, right?! The heel-side sidecut felt gimmicky to me at first, until i started cranking out carves. I could definitely tell after i dialed my Union Force Binding's highback to a sharper angle. From 90 degrees to about 75 degrees (3 on 1-5 scale). Heel-side carves were golden.

People are going to hate on Banana Tech because people are dumb. I say let them, or instead of buying the Skate Banana get the Park Pickle. The whole time in Colorado, i only saw one other guy with the Pickle. I saw 10 Skate Bananas. Go figure.

Something cool i learned last night while looking at the damage i caused with 10 days of riding so far. Is that you don't have to de-tune anything. This board doesn't have the metal on the tip and tail. I'm guessing to keep the butters easier and the flex of the board softer, but i checked and there is nothing to grind down.
View More Details on Gnu Park Pickle BTX Snowboard