Gear Review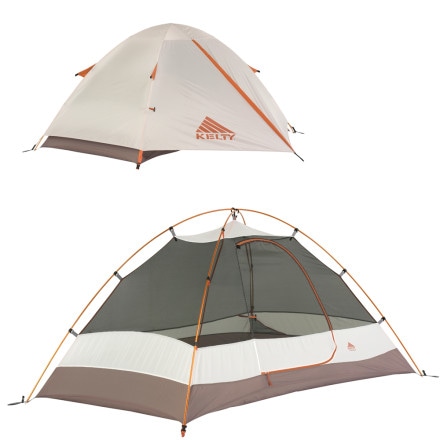 I wanted to purchase a nice quality tent and after previously sleeping in a Kelty I decided this was a good deal.

Pros:
Extremely easy to set up. You roll it out and there are two poles for you to clip the tent to. It seriously probably takes 3 minutes tops.

As well as the tent, the rain fly is also extremely easy to throw on. There are buckles and you just snap them into each corner and you're done. There's also ties to tie it back in the front if you don't want it all the way on.

The rain fly extends a decent amount near the door for storing a few bags and shoes, etc. and still having room to climb out.

The door being on the side is a lot nicer than having to climb toward the bottom where your feet rest.

Very light and small.

The tent itself is basically all screen so it's airy.

I used the rain fly and woke up to the outside being pretty wet and it stayed completely dry inside all night.

I am short, but my boyfriend is six, for and he fit pretty comfortably. It's tough to find tents long enough for that height, but he could stretch out and fit.

Cons:
The stakes are pretty crappy and I already bent one after one use, but not a big deal unless you're camping somewhere with hard ground or a lot of wind and you need the stakes to be strong.

In the product review it says "noiseless zippers" and they are not noiseless at all. I honestly don't care if a zipper makes a noise, but these definitely aren't quiet.

This isn't neither a pro or con, it really just depends on the use, but it's a small tent.. as expected. If you're purchasing this for just yourself it's great and has tons of space for yourself, your sleeping bag, your bags, and is comfortable. If you're purchasing as a two person tent you better be dating that person or not needed personal space. I bought this for my boyfriend and I so it's great, but if you want a lot of space between you and the other and for your bags I suggest something bigger.

Overall I am very happy with my tent and excited to keep using it!
View More Details on Kelty Salida 2 Tent 2-Person 3-Season