Gear Review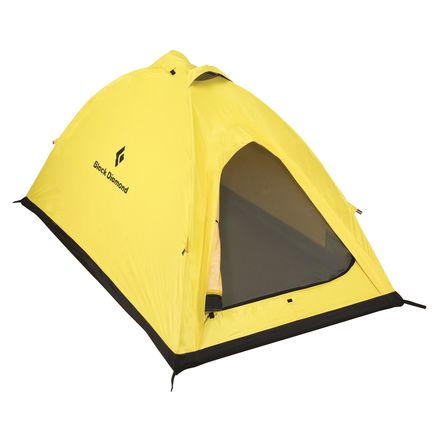 Posted on
Great tent, just learn to use it correctly!
A few months ago a friend and I ventured into the White Mountains of New Hampshire for a multi-day backpacking and snowshoeing trip. I consider myself an experienced backpacker, but most of my experience comes from trekking in the spring, summer, and fall. So I decided to brush up on winter survival skills before the trip. I read a few guidebooks and spoke with experienced winter adventurers at my school's mountaineering club. The more I learned about the harsh winds and subzero temperatures of the White Mountains, the more I became convinced: I needed a new tent. Enter the Eldorado—a well-known and well-tested mountaineering tent from the Black Diamond Equipment, Ltd. Overall, I liked the tent. It was light, strong, and simple to setup. Despite my praises I have one caveat: the tent walls collect a lot of condensation at sub-zero temperatures. I'll discuss this problem in more detail below.

The Eldorado uses no rainfly because of its single-wall design. Its walls are made from a windproof and waterproof material, called ToddTex. ToddTex weighs only slightly more than traditional tent material, so removing the rainfly leaves the tent several pounds lighter than rival mountaineering tents. This design offers other benefits as well. Setup time is minimal with no rainfly. I set it up in two minutes on my first try (not counting the time to stake and guy out the tent). The instruction manual says setup should take less than two minutes—with some practice. Black Diamond also constructed ToddTex to breath like the popular Gore-Tex material: the tent walls absorb and transport water vapor to the outside, minimizing condensation buildup on the inside.

The ToddTex material unfortunately failed to live up to its reputation during our trip. Nightly temperatures fell between ten and fifteen degrees below zero, and in this range the tent's inside walls collected water vapor from our breath. The vapor froze, and throughout the night it fell like snowflakes onto our sleeping bags. We awoke in the morning to find the outside of our sleeping bags wet to the touch. Wet sleeping bags do not work well.

Given the Eldorado's stellar reputation, recommendations, and otherwise impressive design, I suspected (and hoped) that someone had already solved the condensation problem. When I arrived home I put Google to work. Several online backpacking forums explained that no four-season tent, including the Eldorado, will effectively transport moisture when the temperature falls far below zero. Proper ventilation, however, will evacuate water vapor and prevent buildup inside the tent. The tent must face the wind, with the door slightly unzipped, allowing a light breeze to carry moisture out before it freezes.

This solution seemed strange to me, however, because I understood the tent was meant for four season use; so why wouldn't the ToddTex material function in the cold of winter? Also, my friend and I read the instruction manual beforehand and thought we had set up the tent to achieve proper ventilation. It's possible we missed something, of course. I haven't had a chance to experiment with proper ventilation in subzero temperatures since this trip. If anyone has any experiences with this problem, or any other ideas or solutions, please let me know.
View More Details on Black Diamond Eldorado Tent: 2-Person 4-Season