Gear Review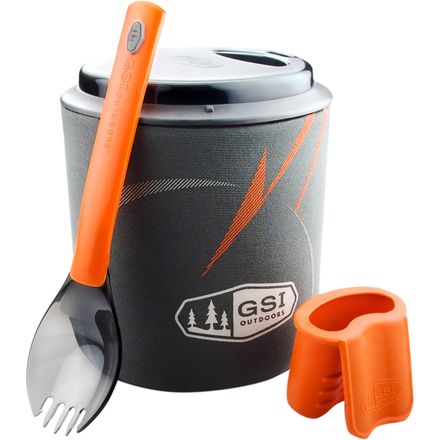 I've been rocking this pot for two camping seasons, now. It's lightweight, durable, and boils quickly.

Like Senor Zombie-pants over there, I use it with an alcohol stove. The stove, my pot stand, the "pot holder", and a bandana fit inside the pot without a problem, so I have a small, lightweight kit that I can just grab and go. I wasn't thinking about zombies when I chose the Minimalist, but it works out well for those emergencies when you need to get out of the house and to the trailhead with a quickness.

The cozy and top work perfectly. I have to imagine that GSI put some serious thought into what neoprene to use for the cozy. It's thinner than your average beer cozy for light weight, but still insulates very well. And, remember to install the top upside-down if you cover your water while boiling. Otherwise, it gets stuck.

Last thing: the foon sucks. It pops apart if you load too much food onto it. And, by too much, I mean a spoonful. I replaced it with a non-telescoping bamboo spoon. 9 grams is tough to beat.
View More Details on GSI Outdoors Halulite Minimalist Set