Gear Review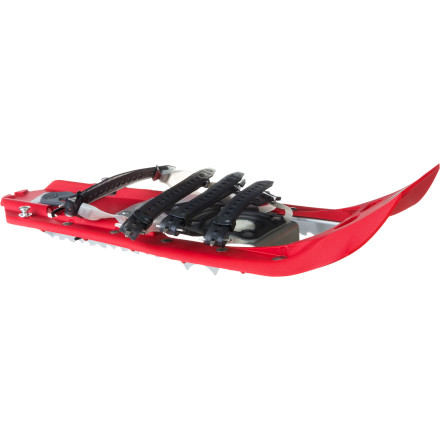 Posted on
Great snowshoes, very stable, solid bindings, light, though a bit noisy
While, at best, I'd call myself a moderately experienced snowshoer, I do have some good things to say about these shoes.

The bindings are solid, and very stable, not once did I feel like I was going to slip out of them, nor did I ever. They are relatively easy to adjust, even with gloves or cold hands. I think the most impressive thing about them is their traction while transversing a slope. Even on Sierra cement I felt very stable, and traction never gave way.

The ascenders are nice feature, particularly on predictably long uphill stretches. Setting them is a bit awkward, but that's unavoidable... as you have to kneel down to reach them. The large plastic tab for gripping them is marginally useful, its more frosting than anything. I usually just found myself slipping a finger underneath the bar and pulling it into position.

The only real downside to the shoes is how noisy they are compared to shoes that are made mostly of metal. The difference is significant, particularly on crust and ice. They make a hollow rattling sound when walking under such conditions. Its not a big deal, but on a beautiful day... when trying to enjoy the solitude, the noise can be a distraction. However, that's really picking nits. The Evo Ascents are bombproof. A couple folks on a recent trip had shoes breaking with rivets popping out or breaking altogether. These, like most anything made by MSR, are built to last... and, a great bonus, made in the US.
View More Details on MSR Evo Ascent Snowshoe