Gear Review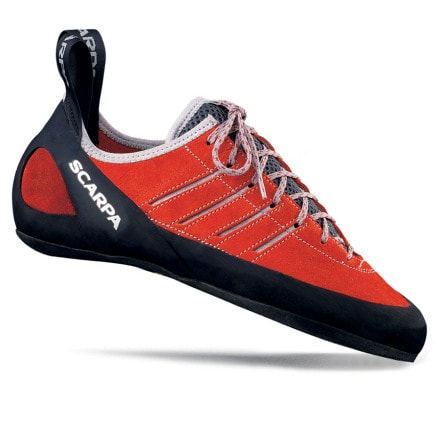 Posted on
Great shoe to learn in
When I first started climbing this was the first shoe I ever bought, the price allowed me not to feel like a broke the bank on gear for a sport I might not even want to keep doing. And remember when you first get into climbing your going to shred through your first pair of shoes very very quickly.

This shoe got me through a huge part of my learning curve and held up well to a lot of "beginner" abuse such as toe dragging slipping off small holds and just holds in general . Another nice feature I found with this shoe was the lacing and toe box on this shoe, when you first start out as a climber your really not in the mind set to cram your foot into small little shoes just to maximize climbing potential. Your still at a climbing level where your wanting to fall in love with the sport and really see if this is "your" kind of sport. Scarpa did a really bang up job on making a semi-performace shoe that I feel appeals to newer climbers.

I couldn't really give this shoe more than 3 stars since well I feel it was never designed to be a 5 star shoe in the first place but also for two KEY points.

1. After about 5 months of climbing in these things 3 days a week I had to put them in a ZIP-LOCK bag before putting them in my climbing bag since the stunk soooo bad!

2. After a few months of climbing and pushing my self to climb harder routes I was having a problem with the shoes being able to hang on to smaller foot holds which resulted in a lot of skinning of my knees.
View More Details on Scarpa Thunder Climbing Shoe - Vibram XS Edge