Gear Review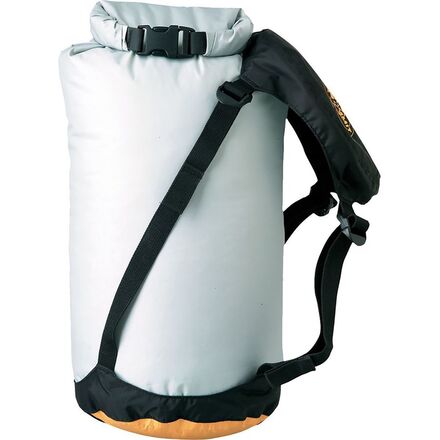 I use it for my Marmot Couloir long 0 degree (800 fill) down bag.
The large was the best size, and I tried it in medium through XL. When picking your size I'd recommend going up a size if you have any question. The larger circumference will make it easier to stuff and since its a compression sack it'll just be a little shorter to achieve the same volume. I would choose by circumference/width, not so much by volume, as any extra volume will be compressed. Also, being a roll top you need some extra length... The large says its 20", mine measures 23" unrolled but if I were to only have 3" on top to roll closed it would be nearly impossible. I have about 7" extra when I stuff my bag in and it makes it easy to close. Once it's compressed the extra length is irrelevant.
Having said all that, this is a fantastic piece of gear for anybody taking a down bag or anything else they'd rather not get wet into the backcountry. Under the right circumstances this bag could save your life, or at least save you some serious discomfort! It also breathes much better than any dry bag I've previously used.
I use it backpacking, usually in winter mountaineering situations.
View More Details on Sea To Summit eVent Compression Dry Sack