Gear Review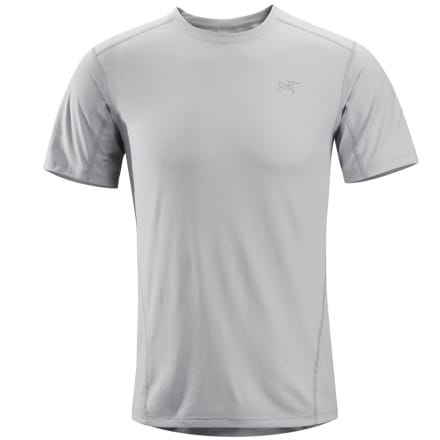 Great Tech T
Member since
Posted on
Wound up picking up a couple of these in long sleeve and a couple short sleeve.

The good:
Fit is great, a good semi-relaxed athletic cut without a bunch of extraneous material but still very comfortable and flattering. They move very well with me through a full range of motion w/o binding anywhere or lifting at the sleeves or waist. For reference, I'm 6'2" ~185lbs, w/ a 44.5" chest, ~35" waist and a long torso and arms and got size XL. Sleeves are a perfect length for me, I could probably go for another inch or so of length in the torso, but it still provides plenty of coverage at full reach as is.

The material's performance and feel is awesome. Definitely super comfortable, ultra breathable, and provides very good evaporative cooling w/ minimal chilling effect when getting hit w/ a breeze while sweaty. Almost impossible to soak, and I'm a pretty prodigious sweater. I think I might have encountered a bit of chafing on an 8 day AT trip a few weeks ago from the interaction of my shoulder straps and the seams on the inside of the underarms but there weren't any signs of this on the skin upon visual inspection. Totally non-see through and while there is some nipple display going on with these it's not nearly as bad as many other shirts of similar design.

The bad:
The short sleeve Motus that I took on my recent backpacking trip developed some pretty serious abrasions to the the fabric in the side hip belt areas by lunch time of day 1. Didn't seem to get too much worse over the course of the rest of the trip, but it was kind of a bummer to see this none the less.

The pewter color does seem to stain if it gets regular old dirt ground into it. The same short sleeve mentioned above now has permanent brown dirt marks on the tail from sitting down trailside and at shelters/campsites. I've only tried cleaning it w/ techwash on cold so far though, maybe OxyClean would take out the stains??

They do seem to stink up for me. Didn't notice it so much while backpacking, but they are definitely a bit odiferous after dayhiking, trail running, or cycling. Smells like new after a washing however.

Conclusion:
Much better fit, feel and performance than just about any other shirt I've tried for high output athletic pursuits for three season use (not sure why this is listed for nordic and cool-cold weather use, it's definitely a summer weight fabric IMO). Durability seems like it would be awesome for anything not involving carrying a bunch of weight on your hips/shoulders (snag resistance seems to be excellent and all of the stitching seems very solid). Like all Arc'teryx stuff pricing is pretty damn high but this piece really does seem to out perform similar ones I own from UA, TNF, Patagonia, Adidas, etc.
View More Details on Arc'teryx Motus Crew - Short-Sleeve - Men's