Gear Review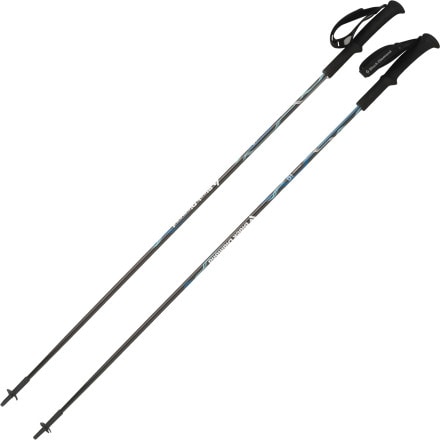 Great Poles, but read on for the details...
Member since
Posted on
I just picked up a pair of these last week, and really like them. They are by far the lightest poles I have found available from somewhere like Backcountry.com or REI.

The z-pole design is fantastic. The feel very durable. I think that it is really cool how they snap together. I used to use a pair of UL Leki poles that I was happy with, even though they bent some, and had a little trouble with the twist lock.

With my old Leki's I set them at 120cm which left my arm at the correct angle(90deg). So I was thrilled when I saw that these were available in that size. Here that is the Medium at 43in. When I got them I did find them to be a bit tall. It did not bother me on the trail though. The weight they claim is accurate on my scales here at home. 9.5oz for both poles in the Med. 120cm/43in size.

A few things I did not know until I got them:
1. They come with "Rubber" tips. They are more like really hard plastic. I was VERY skeptical about using them, and their ability to hold on dirt, rocks, etc. I was pleasantly surprised. The grip from these tips felt very similar to my warn carbon Leki tips. They do also come with nice carbon tips in a nice carrying case for the poles. For the "gram weenies" out there I could not see any change in weight from the carbon tips to the "rubber" tips. My guess is the carbon tips are 2-3g heavier.

2. The basket is permanently attached to the pole. I use poles in the snow too, so naturally I went looking for how I could attach a snowbasket. There is no place to put one. On the box BD states that they are not recommended for use in snow. That was a disappointment. I will need to find a way to rig some kinda snow basket now. Not too big a deal, but something I wish I knew before I purchased.

3. The removable tips are very small. This is nice, in that when replacing the tip you only replace the very tip. About 1/4in long. At the same time I could see how it would be easy to loose these small tips. In the carry case there is a small pocket where you can keep a pair - so they don't get lost. In the directions it says you can take them off by hand, I have what I would think of as normal hand and finger strength for a guy, and I could not get them off by hand. The directions also suggest using pliers. That did the trick. I would recommend using pliers anyhow as I would want to make sure that the tips did not come off on a trip. The tips do include a "wave design" which does naturally prevent them from coming off as well.

4. The blue stuff is really hard and seems very durable. From the pic in Backpacker mag it looks like it might be gel or something. It is a stiff but flexible protective cover for a string in the center of the pole. You straighten the pole by simply holding the top portion of the pole, and pulling the grip away from the tip. With a little finesse this can look and feel really cool. It reminds me a bit of the blind man's cain from Daredevil. Practically it works very well and is well built, and designed.

I plan on using them with my new MSR Twin Sisters shelter(still in the mail). I am not sure how this will work with the poles having zero adjustability. But I am hopeful. I will write another post here with the results. The height of the shelter, and the poles is close. If need be I can dig a small hole, or build a small mound and adjust the tie outs as needed.

Contact me if you have any other questions.

I hope that helps.
View More Details on Black Diamond Ultra Distance Trekking Pole