Gear Review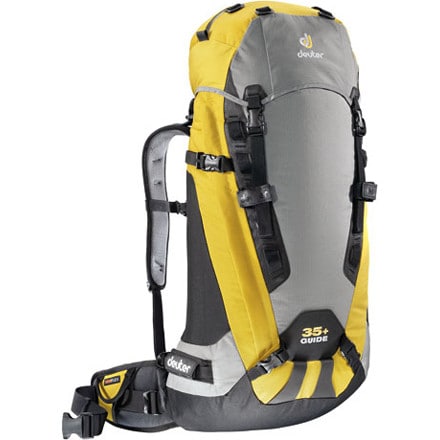 Great Pack...but not for everyone
Member since
Posted on
Deuter is a great company, and I have had nothing but good things to say about their packs. This pack is no exception. The guide series is built super tough, and after having used it out backcountry skiing, I can honestly say its one of those packs you could do pretty much anything to and it would be just fine.

Some things may turn a few people off. First of all, there is no hip pocket at all, just the two tool/carabiner loops. Not a huge deal, but some people like to keep small things in those pockets that get lost easily, or need to be handy (cameras, chapstick, small snack)

There is one giant internal pocket, and two pockets on the top, and thats it. If you like just having a large space to stuff things into, and don't need to be super organized, then its no biggie. But, for backcountry skiing, I noticed having to dig around a little bit for things that fell to the bottom. And carryign around avy gear reuired some advance thought on how best to pack it.

Those are really, in my opinion, minor matters, that to most people that would liek this bag are irrelevant. However there is one thing that really dings this pack, and ended up requiring me to return it. If your use it for backcountry skiing, and more specifically, backcountry splitboarding, then you are out of luck. Your board is too wide to fit into the ski loops. And there are no buckles and little room to make it bigger. No matter how we tried to do it, my board would not fit in the little loop. Its wide, but not quite wide enough for a Venture Helix 163cm. Which is too bad, as its a great bag. But i ended up needing to boot pack part of the tour we were on, and being in a high alpine environment, with really strong wind, it was not a fun trek up to the summit carrying a heavy board in my hands.

If you are a skier, it looks like it would work for most skis, but if your ride fatty's, be cautious.

Otherwise, if you are using it for climbing or overnights or whatever, its a great pack. Just not for the single plank riders among us.
View More Details on Deuter Guide 35+ Backpack - 2150cu in