Gear Review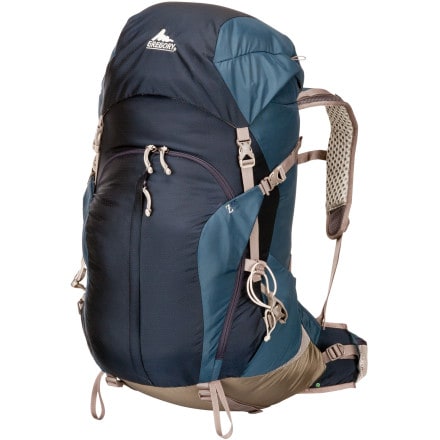 Great Pack!
Member since
Posted on
I bought my Z65 in 2008, the first year Gregory offered it. From the pictures it looks like they've updated a few things since the original offering (the one I bought), so someone please feel free to correct me if any of what I'm about to say is no longer accurate.

The Good:
--The most comfortable hip belt and shoulder straps I think I've ever worn. Even after three years and many stuffings into my trunk, they still hold their original contours and hug my not-so-curvy curves like they were always meant to. The hip belt is the first one I've used that stays put on my hips. Even with two bear canisters and eight days of food, along with tent and cooking gear, my shoulders were comfy for a backpack through Kings Canyon National Park.
--Lots of compression straps for load stabilization. Put in your stuff, tighten down the straps, and your load will hug your back like a monkey.
--Can be panel or top loaded.
--Lots of air flow. My back still gets sweaty, but it's much much better than my old North Face Inversion.
--Hydration system compatible with pass-throughs on both sides. The sleeve is wide enough for a Platypus or MSR Dromedary system, too.
--The hip-belt pockets are perfect for stashing snacks, a small camera, or anything else you want handy but not in your pants.

The Not-So-Good:
--The side water bottle pockets are nigh impossible to reach with the pack on unless you're a member of Cirque de Sole. They also seem rather weak; the hem on both sides started coming unstitched after my second trip, but that's the only sign of wear on the pack.
--The lid, while detachable, doesn't have a belt for day-pack use.
--Seams are stiched instead of welded.
--Strapping my Z-rest on the side is tricky; does OK on the bottom, though.

Overall a great pack. I can get all my gear for a solo trip through the Sierra, including the mandated bear canister, inside the pack without having to play gear Tetris. While it's not the lightest pack on the market by any means, it handles whatever load you have with ease.
View More Details on Gregory Z65 Backpack - 3539-4272cu in