Gear Review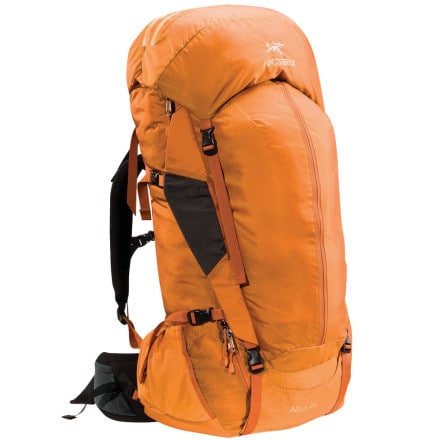 I shopped extensively for the perfect pack for a year long trip to Europe, where'd I'd be doing some climbing and trekking in the Alps, and came to the Altra 65. The pack uses space like no other. I have an old Arcteryx M40 ski pack (40L), and when the Altra 65 came in the box, i pulled it out and it looked smaller than the M40 side by side. Initially I thought I'd been sent the wrong pack cause it was too small. However, I started expanding the Altra 65 out and it was huge. I tell this story to demonstrate the versatility and low profile of the pack. The pack hides stuff everywhere, and expands out to carry massive loads for it's size. It's really well designed from an efficiency and ergonomic standpoint. I really like the hydration system, with hose port. There is a side pocket for your hydration bladder to fit in a separate compartment, but you don't have to use it. If you choose to use, only a 2L platypus or camelbak bladder will fit. Without wasting any space in the pak, I can still run the hose from my insulated 3L camelbak, I just can't stuff it in the specific hydration compartment. I got a 2L platypus bladder for the pack and it fits perfectly in the compartment if you're really anal about having you water completely compartmentalized off and don't just want to make the bigger bladders work by wiring your hose through the compartment and port.
I have a 55L OR dry sack that I use as a pack liner and it seems to work really well.

There is another post somewhere that says the Altra 65 gives up the daisy chain of the Bora line. This is not true, the Altra has daisy chains as well on the sides, just lower profile but still as functional. The only thing I'd add to this pack is an axe loop, with arcteryx sells for like $12-15. I will probably get one.

The pack is extremely comfortable and extremely adjustable to you specific body size and comfort settings. I will say that the Altra 65 and Altra 75's don't fit the same. Initially, I went to REI to buy this pack. The store had Altra 75s in tall and regular. I'm 6'4", 220. I suppose I have a short torso for my height, but the Tall in the 75 was a little big on me and after getting 5 sales reps opinions, they said I should bump down to regular. I originally got a 65 in regular, and it was clearly too small, so I exchanged it for a Tall and it's perfect.

I'm in London on a year long contract with my job. I have a professional job, so for a year I needed my shirts, ties and suits. While in Europe for a year, I get to take advantage of their longer vacation packages and leisure time compared to the US, so I wanted to use a lot of my time backcountry skiing and climbing in the alps. Thus, I had to take both my work wardrobe and some gear. I'll just say that between a moderately sized suitcase and the Altra 65, I easily packed everything I need for Europe for a year.

I'm very happy with this pack and highly recommend it.
View More Details on Arc'teryx Altra Backpack 65 - Men's - 3967-4577cu in