Gear Review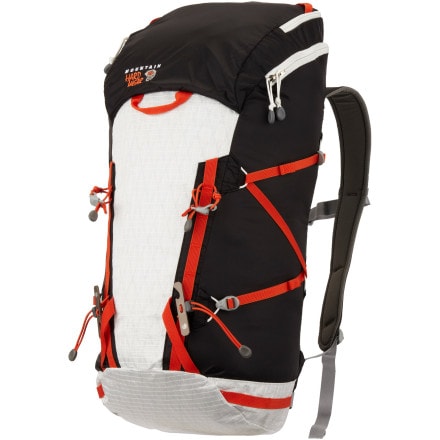 Posted on
Good pack, specific use
At first I was unsure about this pack. I bought it for fast and light mountaineering, which is pretty much what it's made and marketed for, but on receipt I wondered if it was TOO minimalist. The shoulder straps are somewhat narrow and only lightly padded, there's no hydration pouch (just a clip), there's not really a good way to carry a rope, etc. Packing for my first use didn't make me feel any better as it seemed pretty full with a downie, light rack, crampons, camelbak and snacks, and even hiking in I was unsure.

However after having used it, admittedly just a little, I really like this pack. You have to pack it right, and light, and you kind of have to do things ITS way in order for it to work as designed. It's like that car that only works in certain weather but when it does you have the time of your life driving it. You're not going to take this pack cragging, or for a long winter day out. You're going to take this pack on fast and light climbs, or maybe warmer-weather outings where you don't need the extra layers. If you're looking at this pack you probably have some fast and light climbing in mind, and this is definitely the pack for that (but not much else).

A couple notes. Not sure if this is standard, as it doesn't show it in the picture, but the lower left axe keeper on mine didn't have the metal rod which girths around the axe. In fact it wasn't even threaded such that it could be girthed, I had to feed the axe through the loop and then tighten it. This was easily fixed by disassembling the clasp, threading a large button on the elastic, and installing it properly. Not a big deal but not something I should have had to do myself. Also I added some elastic cord between the two daisies for lashing helmets, crampons, rainshells, etc. and this adds a lot I think.

All in all, a very good pack but built for a very specific purpose.
View More Details on Mountain Hardwear Summitrocket 30 Daypack - 1830cu in