Gear Review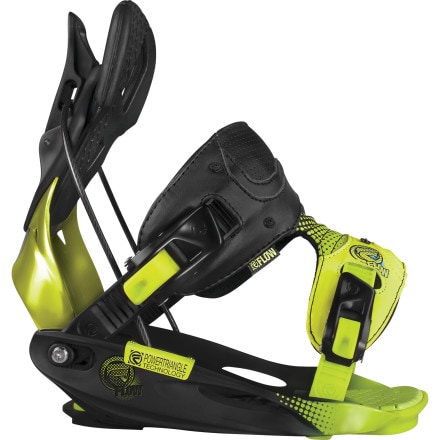 I own a pair of 2010 Flow M9 Bindings and they are pretty good. It has the "3-D Power Strap", as they call it, which I like because I find it helps get a more responsive feel, since the strap grips your boot better than the two individual-straps system. I think they have good cushioning and are, on the most part, easy to use/adjust. The "Power Triangle" is basically a tension cord that can be adjusted to modify the tightness and angle of the highback, for a more responsive or loose feel. They have the reclinable high back which allows for easier and faster in/out. This is probably the biggest advantage I found when I first got them. I hated having to release and tighten the regular two strap system because it took too much time and sometimes was not easy at all depending on the tightness... Really makes it easy to slip into the binding (without having to adjust the strap, which you set the first time and forget about it basically) and secure the boot fast, so that you can head down the mountain almost immediately after exiting the lift.

However, the main critique I have about them, is precisely about their reclinable highback and the Power Triangle cable. You see, the highback is secured by the tensor cable of the Power Triangle. Now this cable if tightened enough can keep somewhat maintain the form it gets when secured tightly. What I mean is, that when the tensor is disengaged to release the highback, I found that after a while the cable was forcing the highback up due to the form of the tensor cable. the binding basically molded the cable to it under tension, which in turn forces the highback to close by itself, making entry/exit difficult and sometimes impossible without manually forcing the highback down.

Also, if there is enough snow accumulation on the bottom of the binding it will get difficult to slide in, since the strap is set to a specific height, so you have to really clean up the ice or the boot wont fit in there, or can be difficult to get in.

Overall I find them to be pretty good binding, but their easy access system could be better. I do not know if this has been modified (fixed) on the recent models... Be aware of this and investigate further when buying!
View More Details on Flow M9 Snowboard Binding