Gear Review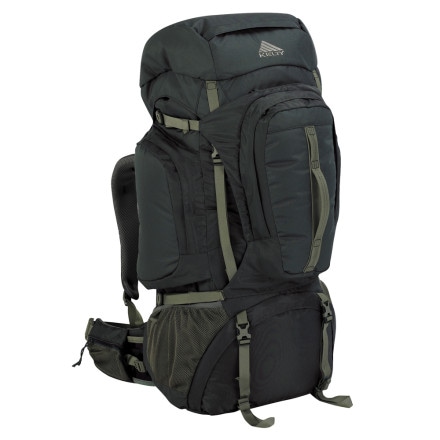 I have the 2009 6650 cubic inch model of this pack, and as far as I can tell it is the same as this newer model. I used it for several years before I switched to a smaller Osprey pack that is more appropriate for the smaller weekend and multi day trip that I do now.

This capacity of pack is absolutely massive. I took it on a multi week expedition and it held everything with room too spare. Tent, sleeping bag and pad, cold weather clothing, cooking gear with 10 days of food, climbing gear and rope, this pack devoured it all.

At first I tried to store my water bottled in the mesh pockets on the outside, but it wasn't really secure and it made them protrude out awkwardly so that the mesh kept getting scraped and developed holes. I ended up storing my water bottles in the large pouched side pockets (their extra space wasn't needed to store gear) which helped solve that problem.

The fabric on this thing is bomber; it can candle being dragged over rock and snow with ease.

The pocket that is on the back of the pack in the center is a bit of a mystery, it's placed far from your back so if you load something heavy in it, it will pull, you back. The panel access that is offered by that pocket can be convenient when you are in a hurry to get something out, but it is useless for actually packing the bag, if your bag is packed lightly that zipper can be hard to close once opened. The compression straps that radiate from the pocket are well designed and do a good job of stabilizing the contents when the bag is under packed.

Packing wise it can take a while to figure out. The rather box-ish shape means that there are some corners that are hard to fill with gear, especially those in the sleeping bag compartment. An additional stumbling block is that a good deal of the packs volume is in the outer pockets, which can be awkward when filled with gear.

All the little features worked well, such as the removable floating lid, hip belt pockets, sleeping sap compartment compression straps. The only thing that was the ice ax loops, as there it no obvious top attachment point, I ended up tucking the spike under the compression straps, which was inconvenient put worked.

This fall of this pack however is the suspension. This pack is one size fits all designed to fit any size torso, so of course it really fits none.

The dual adjustable stays can be contoured to sort of fit your back if you can understand what shape they need to be, which it very difficult. At best it will always be an imperfect fit. The hip belt is also a poor design with minimum adjustability. Most modern packs will have several hip belt sizes to accommodate different sized waists, this one is just large, which means if you are a small or midsized person it will wrap almost completely around your waist. Additionally the mesh padding used in the belt and shoulder straps is uncomfortable and a lower quality material compared to the closed cell foam most manufactures use now.

The back size is adjusted by sliding the shoulder straps up and down the frame, and they are secured by a single paltry strip of Velcro that can easily slip. The worst part of the design is the load lifters, the strap that connects the top of the shoulder straps to the back of the pack. Because of the great size adjustability of this pack, if you are to short you will find that they simply pull up, not fulfilling there purpose and creating and unstable load. Likewise if you are too tall the pull strait back, not lifting the weight off of your shoulders and instead putting pressure on them. Kelty tried to fix this problem by creating two ways which you can thread the load lifter straps, this works to an extent if you have a mid range torso, but is still killer for the smaller guys.

In the end you get what you pay for, a semi-decent bag with some not so great feature, and some good ones, attached to a minimal frame that is not really suited for the long haul.
View More Details on Kelty Red Cloud Backpack - 5600-6650cu in