Gear Review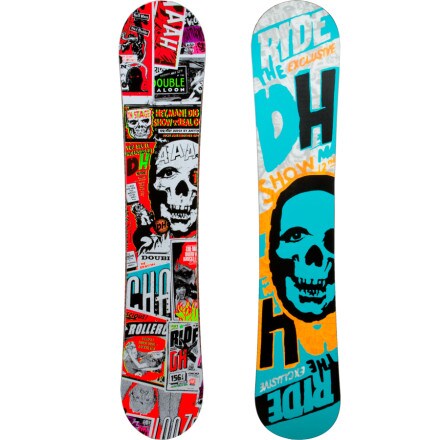 Posted on
Go to board for Ride Pros
The DH has been a go to for the pros on the Ride Snowboard team for years. They love it so much that they haven't allowed Ride to make any major changes to it.

The DH is a medium flexing board that can handle the entire mountain and destroy the terrain park. The DH is able to do this because of the:

* Carbon Array 3 in the nose and tail. This tech pulls the energy you transfer from your bindings to the board all of the way out to your contact points. This gives you control and stability when you point the board down the hill. But by keeping the carbon in the nose and tail, the board stays playful in between your feet.

* PopRod 2.0 in the nose and tail. This tech helps you load up a ton of energy in your nose and tail and you get a ton of pop so that you can get up on to those rails/boxes with confidence and olly of the lips of jumps with ease.

*85A slimewalls give you durability. Lets face it, you're probably going to slam this deck into rails, boxes, tree stumps, etc... The slimewalls is a polyurethane sidewall that flexes naturally with your deck for a better feeling under foot, but is also going to take those beatings against rails.

*Cleave Edge - When you slide down a metal rail, your edge heats up from the metal on metal friction. When you hop off the rail and your hot metal edge hits the snow it is vulnerable to cracking with the instant cooling. Cleave Edge is 50% thicker then your average metal edge and when this happens you have a better chance of riding away without a cracked edge.

The DH is a great board for any rider that loves to ride the terrain park but is also looking for performance around the rest of the mountain. If you have a size 10.5 boot or smaller you should be looking at the regular DH as you don't need the wide.
View More Details on Ride DH Snowboard - Wide