Gear Review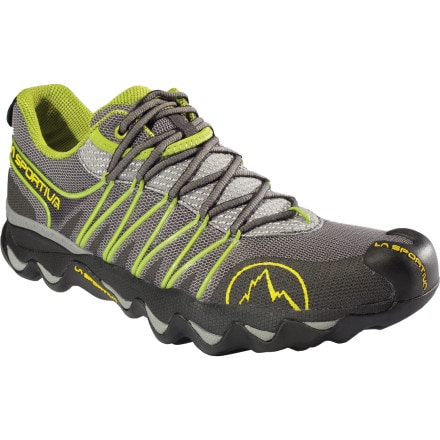 Posted on
Go hit the trails.
This shoe is my first from the La Sportiva mountain running line. I've never owned a pair of La Sportiva's before other than my very first climbing shoe, the Nagos. With my inexperiance stated, I'll go on to say that these are my favorite pair of shoes I've ever owned. I couldn't be anymore happy with the fit, feel, and the way that they preform. The Quantum, one of La Spo's two shoes utilizing their Morphodynamic technology, is extremely comfortable and shock absorbant. The Frixion out sole is grippy and flexible, while still being highly durable. Over all the upper breathes quite well, and still protects against mud, dirt and light water. A very well rounded trail and mountain running shoe is what La Sportiva crafted when they addded this piece to their arsenal of preformance footwear.

My personal experiance: A day or two after I pulled them out of the box, I thew em' on and hit the trails. I couldn't be more pleased. The first thing I noticed about the outside of the shoe was the unique style and colors. I chose the typical yellow and black. The lacing system is very cool, and incorporates a zig zag pattern the laces feed through, this allows the laces to tighten the entire mid section of the shoe. This system that wraps around your foot, already makes the shoe feel like a second skin. As I put them on and tighted them up, I noticed the breathibility of the upper sole, which is perferated in two places, keeping your foot cool. I couldn't wait to run in them, so I did. It was a squshy day on the trails, and I heard these shoes dont preform well in mud. Hmmmmm. I dont know what mud other people were running in, because these worked great. Evenn with the smooth, wavy out sole. The shoe stayed stable, and true to my foot as I lept over big puddles and trudged though dirt. Whats more, is that I even tested the morphodynamic technology's legendary adaptability. to get to my trail head, I ran along road sides on cement, then on gravel and flat, compact dirt. Then finaly to juicy wet trails, then back again. What suprised mr most is that slowly I could feel the sole remembering the shape of my foot, and soon I felt like I was stepping in the same spot over and over again. Then I realized I was stepping on rocks, then back to cement, and more rocks. Bottom line... Adaptable. Above all else. I couldn't belive my eyes or my feet.

I love my new shoes. I hope you will too.
View More Details on La Sportiva Quantum Trail running Shoe - Men's