Gear Review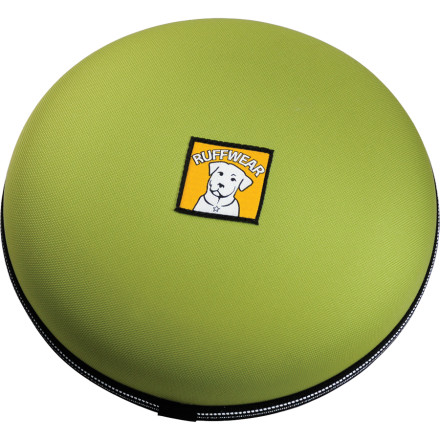 Posted on
Glides like it's in the Ice Capades!
This disk is definitely worthy of the name "Ruffwear"! My Chessie *loves* his (plastic dog disk), but I wasn't thrilled with the way the plastic was scuffing up his gums/lips (he can get a bit over-enthusiastic when it comes time to play with it). The Ruffwear Hover Craft is gentle on his mouth, retains its shape beautifully, and glides like it belongs in the Ice Capades!
It should be noted that Ruffwear warns the human element in the dog-disk-playing-duo that the Hover Craft is not meant to be left unsupervised with the dog, or used for games like 'tug-of-war'; however, I have to admit that there have been occasions when my Chessie just didn't want to let go of his new-found love, and a bit of 'tugging' ensued between us. In addition, he likes to chase my other two dogs around with it, and taunt them to come play, so needless to say, the disk has seen its fare share of 'less than ideal' play. None the less, it has held up *really* well, and were it not for the dirt and slobber on it, it would still look like new!
This disk is easy to clean, easy to pack for hiking/camping/beach trips, and just down-right fun to play with. (My husband and I are often tempted to play monkey-in-the-middle with our dog, since we love throwing it back and forth to each other too!)
Ruffwear makes some awesome products, and the Hover Craft is definitely helping them retain their excellent reputation. You won't regret this buy!
View More Details on Ruffwear Hover Craft Dog Toy