Gear Review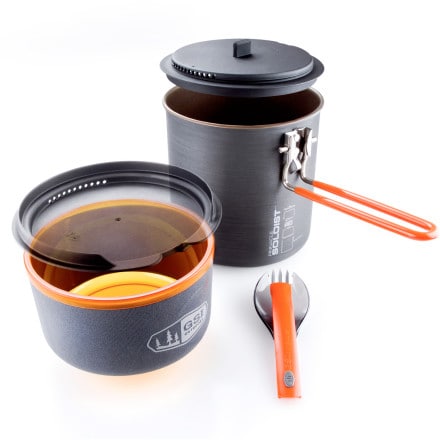 Posted on
For those who want to actually cook in the backcountry
I'll preface this review with my cut and paste statement that I work as a backcountry backpacking guide in Yosemite National Park. Nearly all of the products I take the time to review have seen at least a half a season, if not more, of use... and I'm committed to not bothering to write a review until I feel like I've really gotten to know a product. I never thought I'd bother to write reviews, but I've recently decided that since I've spent so much time over these last many years reading reviews, and finding a tremendous amount of value in articulate and well-informed opinions, that I wanted to give back to the community. So, with that being said, here we go...

This is a nice, little cook kit. A little more luxurious and easier to cook in than a titanium mug or pot. The non-stick coating makes cooking, and clean up, much easier. Its a little large and a little heavy for a solo cook kit, and the included convertible spork sucks... I wouldn't rely on it in the backcountry. The lid can be prone to melting if you're not careful, and I wish the included plastic cup had measuring marks, although its easy to make some of those at home before you head out.

I honestly prefer saving some weight and going with a two piece titanium mess kit. This kit is for those folks who want to do more than boil water and eat oatmeal and drink coffee or tea. If you're into doing a little cooking in the backcountry this kit is a nice balance between lightweight and features, while not having to mess with multiple pieces that create more weight and bulk.

As I mentioned already, if you're eating dehydrated meals and finger foods and snacks in bags... don't bother with this kit. Just grab a single wall Snow Peak 450.
View More Details on GSI Outdoors Pinnacle Soloist Cookset