Gear Review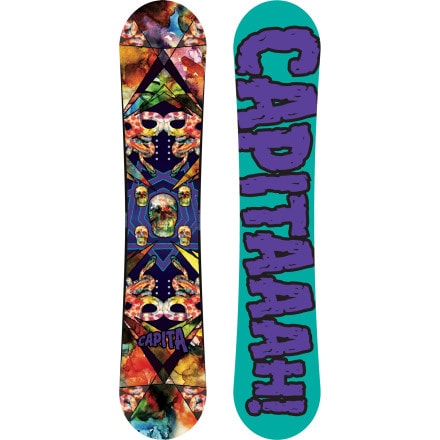 Posted on
Flat Kick, Solid Contribution to the Rocker/Reverse Camber world
I rode it at a shop demo at Snowbasin in Feb 09 I must say at $399 this is a killer board. Very similar to the Green machine, just stiffer between the bindings as it has some carbon fiber in it that the Green Machine does not.

Capita's Flat Kick tech is solid. Unlike other rocker/reverse camber boards it carves well, is stable at higher speeds as you still have enough effective edge under foot to lay it down. But the nose and tail are kicked up enough that you're not going to hang up and catch your contact points when playing around.

If you do land a little too far back or forward when spinning or coming off of a jump, you do get a bit of that wash out feeling that other rocker boards have as well. But it's a technique issue and once you've adjusted to it you'll be fine.

This board probably has about a 5 to 6 out of 10 in flex compared to the other boards in Capita's 2010 lineup. The waist width will accommodate up to a 10.5 boot on all of the models accept the 160 which is a mid-wide and can take a size 11 boot.
View More Details on Capita Indoor Survival FK Snowboard