Gear Review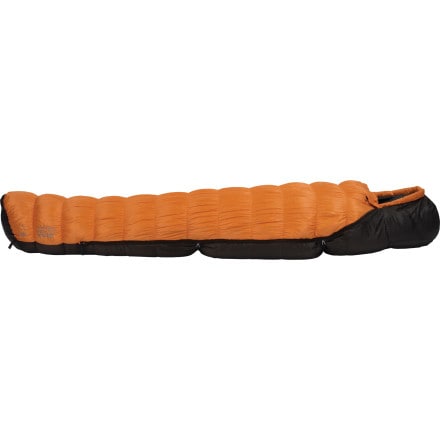 Posted on
First Impressions
Just pulled the bag out of the box, so this is strictly a prelim review. From what I can tell so far, this is a nice bag and I think I'll be happy with it for years to come. I was a little hesitant about the stretch aspect of it, but once I got inside, I decided I really liked it. Coming from a bag that was too long for me, it's nice to have a bag hug me. I can feel the stretchy cords in the baffles right away, but it's also 102 degrees here right now, so I'm in shorts, pretty sure that won't bug me when I'm sleeping. I'm a side sleeper and tend to move around a bit in my sleep so I think this feature is going to be a home run. The down is distributed so that the upper part of the bag has maybe twice as much loft as the bottom part of the bag, which is great for keeping weight down. The color is not my first choice, probably my last, actually. I want to blend in with the environment, not stick out, but whatever, I got this bag half off on SAC, so I can sacrifice the color.
Details you can't see in the ONE photo of this bag: there are two removable pad locks underneath the bag, there are multiple loops attached to the bottom and side of the bag for drying it out, etc, the zipper goes both ways, so if you're warm or wanna stick a leg out, you can unzip from the bottom, there is a small pocket on the outside near your head (probably big enough for chapstick and a pair of glasses), and the bag comes with a cotton sack for long term storage and a small sack for stuffing (not a compression bag, i.e., there's no compression straps).
The zippers and draw cords leave something to be desired, though. The zippers snagged on the outside of the bag a few times. The 'snag-free zipper tracks' are on the inside of the bag, so, sure, it doesn't snag on the inside, but they also make it a pain to unzip from the inside of the bag. The drawcords are just paracord (?) so there is no elasticity to them, but in a bind, it's nice to know there is some extra cord to use for other purposes.
Last thing, the description says there is a slip for a pillow, no, there is not in my bag!!! I'm thinking the bag I got was an older model or something.
Overall I think this is a great bag!
View More Details on Sierra Designs Arrow Rock Sleeping Bag: 30 Degree Down