Gear Review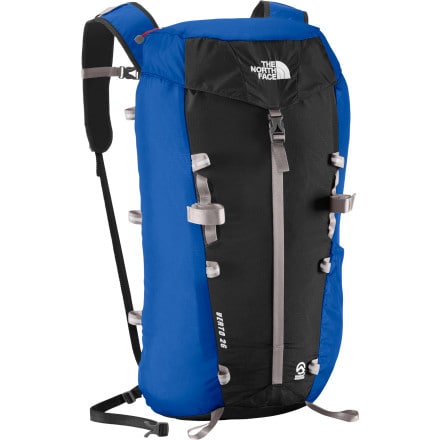 Summary: Great pack, very versatile, durable, useful. Two minor details that are annoying.

I bring this pack on every outdoors trip I take, whether its two weeks of backpacking, a couple of days of skiing, a day of rock climbing, or anything in between. It weighs next to nothing, takes up almost no space when packed, fits enough for a day hike or a day of climbing, and can be very meta. It's held up to four seasons of abuse so far, and looks like it will continue to do so.
I do, however, have two gripes with the pack.
The first is the water bottle compartment. The fact that there is only one means that when your bottle is full, the pack tends to be a little strangely balanced. This isn't a dealbreaker by any means, but it can be uncomfortable and difficult to adjust at times.
Likewise, depending on how the rest of the bag is packed, nalgenes have a tendency to slip out of the compartment after a while. Needless to say, I think that The North Face needs to put a bit more thought into this.

My second problem is the fact that the webbing is shiny smooth. Normally this might be a good thing, but in this case it means that however you adjust any of the straps, they will loosen over time. When you're just walking, this is an eventuality after an hour or two. If you ever end up running, this takes place in a matter of minutes. Again, this isn't awful, but it can be an annoyance. Now that the pack has seen some use and the webbing is a tad dirty, it doesn't happen quite as quickly.

One last thing, is that this pack is not waterproof at all. This becomes a problem if you don't have a drybag in everything beyond light drizzle. I think I'm going to try to treat it with some DWR and I'll post on the efficacy of that after I test it.
View More Details on The North Face Verto 26 Backpack - 1600cu in